The Avon ANEW Vitale line is a breakthrough formula with VitaTone Complex, an exclusive blend of patented and patent-pending ingredients and peptides, that is formulated to help awaken and invigorate dull, tired skin to renew vitality, improve skin tone and give an overall radiant glow.
The ANEW Vitale collection includes: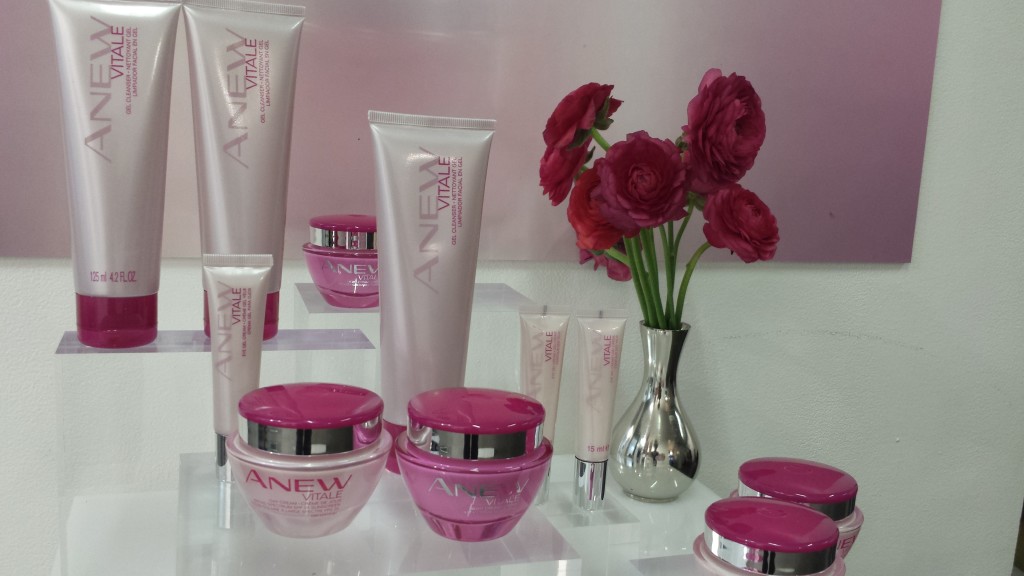 The collection is great for anyone, regardless of skin tone, wanting a boost in skin radiance.  Products from the line can also be cocktailed with other treatment products from Avon.  I really like the day and night cream and I'm currently using both with  the Anew Clinical Advanced Retexturizing Peel pads ($25) and the Anew Clinical Absolute Even Multi-Tone Skin Corrector ($39.99) and I'm getting great results. Both creams are light-weight and give me a great moisture boost without feeling like I draped a wet paper towel over my face.  I'm not alone in my love of these products. Based on a clinical study, 9 out of 10 women showed improved clarity and more even toned skin with continued use.
Avon Donates $5 From Sale of Every ANEW Vitale Day/Night Cream
to Breast Cancer Research
Avon believes every woman deserves a brighter future, so for the month of October, with every ANEW Vitale Day or Night Cream purchase, Avon is donating $5 to the Avon Foundation Breast Cancer Crusade. (Up to 1 million dollars.)
I very highly recommend you get one of the creams and a treatment product based on your skin care concern. For example, if you are like me and want to even out tone and texture, you can try my cocktail above.  If you are starting to see signs of aging, such as fine lines and wrinkles, you may try the
Anew Clinical Resurfacing Expert Smoothing Fluid
with the ANEW Vitale products.  Just remember that for the month of October, $5 from the sale of the every ANEW Vitale Day/Night Cream  will go to  Breast Cancer Research so now is the time to stock up.
P.S.  

Feel your boobs

 (Breast Self Exam) and get them checked regularly by a doctor.  
—