The science of beauty. While so many of us are busy focusing on the sparkly pieces of our makeup and skincare collections (ahem, present company included), it's easy to overlook the less glamorous aspects of these items.  However, when I come across products formulated by biotechnology scientists with claims of "unprecedented anti-aging results," my nerd alert button turns on and I am intrigued.  Algenist is a skincare brand that focuses on the "ability of effective, bioactive ingredients to deliver visible anti-aging results to the skin."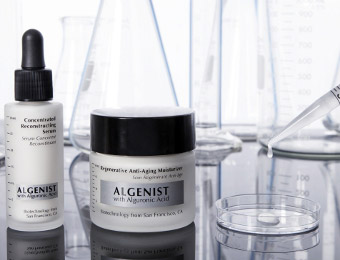 The key ingredient, Alguronic acid, produced from a specific and unique strain of microalgae, is present in every product in the line and stimulates skin cell regeneration which directly helps to slow the aging process.  How delightful does that sound?  Aging is not welcome in my home, as I am sure it is not welcome in yours.  The line is quite extensive and runs the gamut from cleansers and serums to masks and eye creams, most are non-comedogenic and hypoallergenic and all are formulated without parabens and sulfates.  Finding skincare that has such efficacious ingredients without all the added junk is still quite rare and a welcome addition to my skincare arsenal.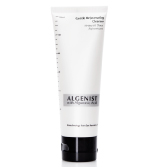 A sucker for cleansers, I immediately dove right into trying the Gentle Rejuvenating Cleanser first.  Since my skin type changes so frequently this time of year, I was thrilled to see that it was designed for all skin types.  The texture was quite thick but removed all of my makeup effortlessly and really gave my skin a thorough deep cleansing.  I noticed my skin did not have the using tight feeling I often have with many other cleansers and I attributed that to the oat amino acids in the product.  Afterwards, my skin felt supple, smooth and radiant without any redness.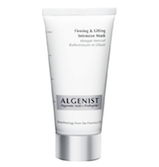 Another stand out product from the line was the Firming and Lifting Mask – which should be renamed "the miracle mask".   Designed to immediately tighten, tone and smooth the skin, this mask delivered on its promise, leaving my skin looking like a firmer, tighter and softer version of its normal self.  And like the cleanser, this is suitable for all skin types.
To round out my love affair that has now blossomed with Algenist products is the Concentrated Restructuring Serum and the Firming and Lifting Eye Gel.  Both are formulated with Algenist's signature Alguronic acid, while the serum has an added bonus of an algae-based alternative to retinol, and the eye cream gets a boost with chamomile and caffeine.
All Algenist products are available on their website and Sephora, and range in price from $25-$95.