Pastels for spring? Groundbreaking! Not really but after the dark colors worn for winter, it's easy to understand why we go gaga for manicures that conjure images of tropical vacations and are reminiscent of the pastel suits worn by Blanche Devereaux and the other ladies of The Golden Girls. Here are a couple of my favorite Spring Inspired Manicures and few nail polish colors I'm loving at moment.
This manicure was original created by Jin Soon Choi for Easter but I think it's the perfect Miami Art Deco representation of everything to love about warmer weather and spring.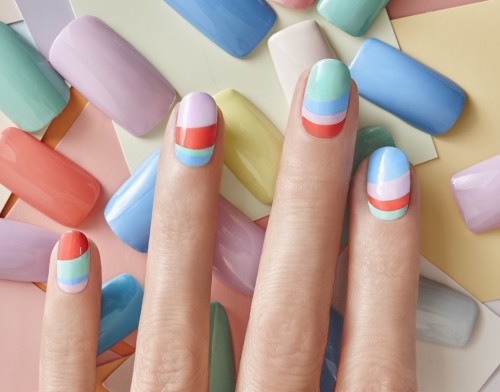 Step 1: Apply JINsoon Power coat
Step 2: Apply two coats of JINsoon Keppel
Step 3: Using JINsoon Sinopia with a striping brush draw a curve at a slight diagonal  to mark where you want the shape to start. Fill in the created shape with the color. 
Step 4-5: Repeat step 3 with Ube and Aero. Tip: You can change up the colors in the order that you prefer.
Step 6: Finish the look with Top Gloss. 
Inspired by the bougainvillea plants that I have been seeing everyday for the last 8 days I have been in Anguilla, this manicure simply makes me happy.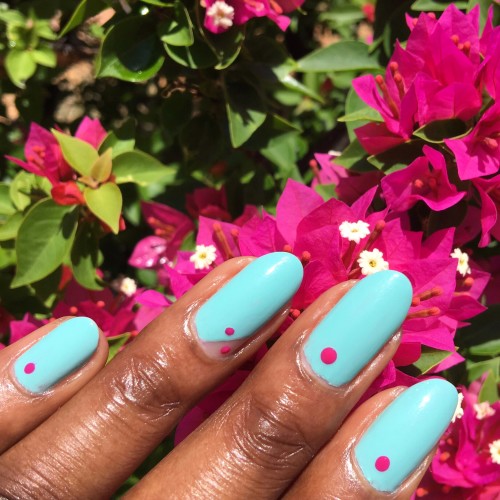 Step 1. Apply base coat
Step 2. Apply two light coats of Sinful Colors Rendezvous to all nails. (If you wish to do an accent nail as I did above, only apply polish where you want it on the nail you want to accent.)
Step 3.  Using a dotting tool, drop one dot of Sinful Colors Fortune Cookie in the center of the top of the nail. (On the accent nail, add one dot on the negative space and another on the color.)
Step 4. Allow to dry completely and finish with a top coat.
What are your favorite nail polish colors for spring?