When your mom is ThisThatBeauty, the bar's set pretty darn high. I'm super discriminating when it comes to products that I use on Phoebe….particularly skin & hair. So, when I heard of the new hair care line, SoCozy, a salon-formula hair care line for kids, I perked up!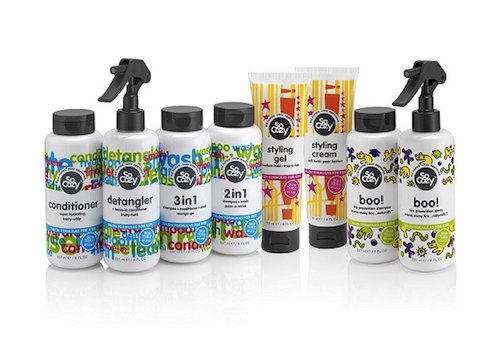 As I further explored (and researched the line) I learned that the formulations are non-toxic, meaning: free of the stuff that you generally don't want anywhere near your kid. SoCozy is free of free of parabens, sulfates, phthalates, synthetic color, propylene glycol…also gluten, wheat and nuts (if allergies are an issue). Available exclusively at Target.com, SoCozy is new to the marketplace this Spring…so I had a hard time finding product reviews online. So, I did what ThisThatBeauty 'would' do — I purchased a handful of products to try out. Below are my favorites, but the entire line includes: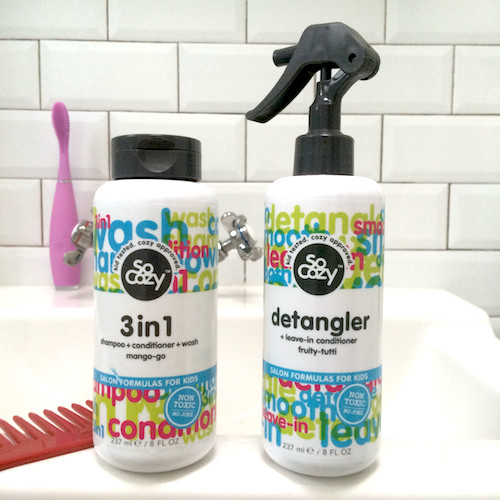 Cinch Detangler + Leave In Conditioner Instantly detangle without pulling or tugging
Behave Styling Mousse For extra volume, bounce, and smooth shiny hair
Cinch 3 in 1 Shampoo + Conditioner + Body Wash Nourishes and hydrates hair with keratin, soy protein's and kiwi fruit extracts
Behave Styling Cream Keeps every strand in place, smooth and silky
Boo! Lice Prevention Spray and Shampoo Gentle enough for everyday use to help prevent the dreaded lice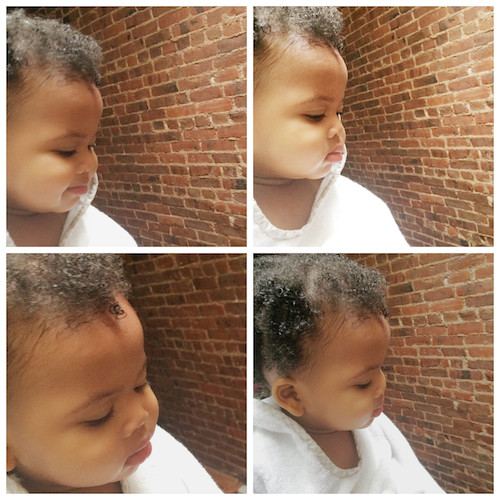 I cannot stress enough how challenging it is to photograph a toddler – Lord! It's tough. But here's Phoebe immediately after using Cinch 3 in 1 Shampoo + Conditioner + Body Wash. First of all, I love that this product is a 3 in 1…because, if you think it's tough to get a toddler to sit for a photo, try getting the same toddler to sit for a bath while you incorporate product, after product, after product. Cinch 3 in 1 Shampoo + Conditioner + Body Wash is really light, which is perfect for my toddler's needs. The product lathers quickly and rinses with ease…..a major PLUS, because, again – toddler's have very little patience. As for how Cinch 3 in 1 Shampoo + Conditioner + Body Wash performs as a body wash — It got Phoebe clean and it didn't irritate or dry out her skin. Honestly, that's all I ask for in a body wash. The real strength of Cinch 3 in 1 Shampoo + Conditioner + Body Wash  is as a shampoo and conditioner because it gets the job done with very little effort. Phoebe's curls are so soft after bath time!
I also tried out Cinch Detangler + Leave In Conditioner. Much like the 3 in 1, this product is also light. Thanks to the efficacy of the 3 in 1, I actually need very little Cinch Detangler + Leave In Conditioner post-wash because the 3 in 1 wash leaves Phoebe's hair rather tangle-free. But where I find Cinch Detangler + Leave In Conditioner performs best, is as a daily refresher. It's a really nice way to wake up baby bed head. So I use Cinch Detangler + Leave In Conditioner daily as a conditioning boost and a curl reviver. I should note that it dries quickly, so you don't have to worry about sending your little one out the door with wet hair.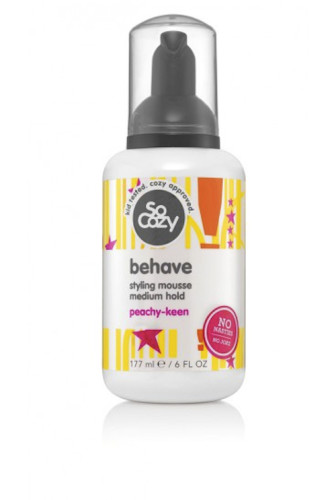 We also tried out Behave Styling Mousse, a finishing product for volume and shine. This is good for defining Phoebe's curls…but probably better suited for little ones with fine hair. Phoebe's hair is short, but voluminous (translation: fro), so I don't necessarily use this product for her on a regular basis. But definitely consider this if your little girl or guy has fine strands.
BOTTOM LINE:
SoCozy is totally worth your time and attention. The line is multi-functional, super effective, and non-toxic. I'm all about products that make my mom-life a little easier…while being safe, smart, and easy to use. As with all things in our modern world, good-for-you products (and food) tend to come with a slightly higher price tag (sigh, but crappy fast food is oh so cheap!). SoCozy's line starts at $11.95, so it's an investment…but one that's well worth it. SoCozy Value Sets are a great way to experience the line and save a little. And, SoCozy Stylers is a free loyalty program that rewards you for social sharing. Hey, every little bit helps!
Want to learn more about SoCozy, visit Twitter at @SoCozy_ & Instagram and Facebook at @SoCozy #SoCozyatTarget
Disclosure: This is a sponsored post written by me on behalf of BeautyStat. All opinions are my own and not edited by the sponsor. Please read my Disclosure Policy for additional information on sponsored posts.