Lately, I've been thinking a lot about the evolution of my skincare. On the one hand, not much has changed since I first started blogging 10 years ago. I'm still super committed to my skin and I still love publicly sharing my knowledge and experiences along the way. But on the other hand — EVERYTHING has changed. When I first started blogging, there was no Instagram and acne was my number one concern. Thankfully, my pimples are now few and far between. (I hope I'm not jinxing myself by saying that out loud.)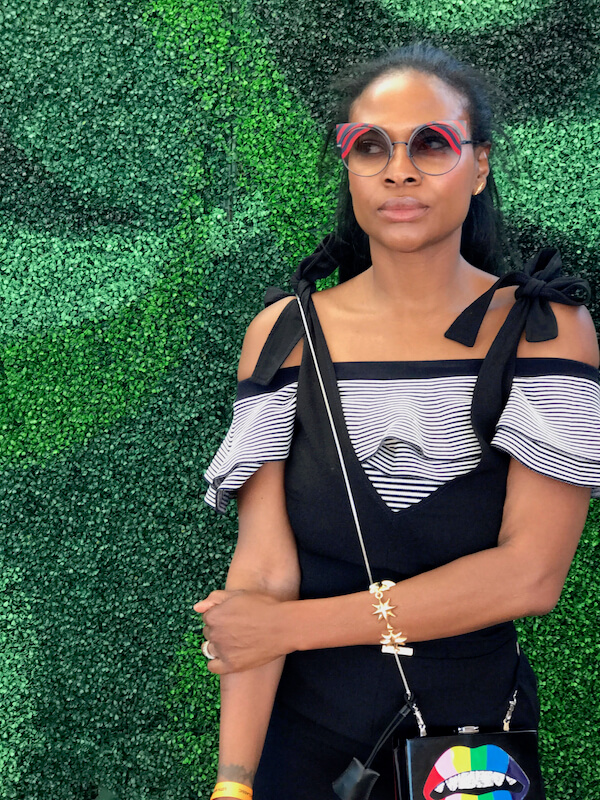 I've always been a stickler for ingredients, and by now, 10 years deep in beauty writing, I've seen a lot. Having sat through a decade of product presentations, seasonal market appointments for new launches and a ga-zillion press previews, it's safe to say that these 41 year old eyes have seen (just about) it all. Add to that, the daily mailings in fancy packaging with lofty claims…. Phew! It's a lot. And It's MY JOB to evaluate products. Lord, Jesus — "Where does the average consumer even begin?", I often wonder.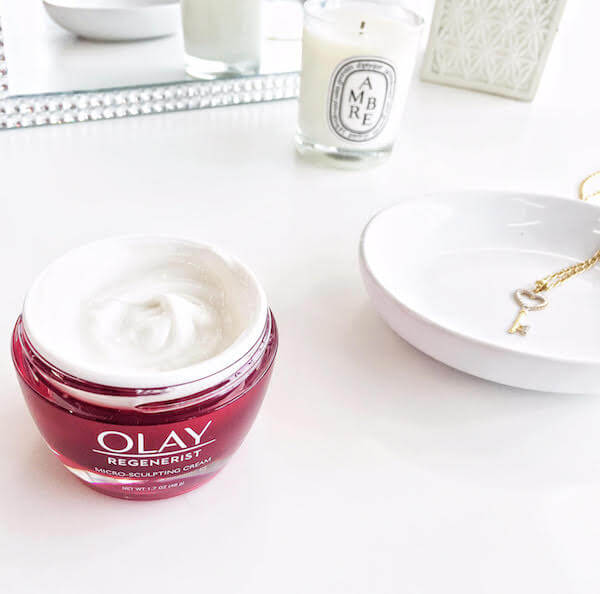 Obviously, I am a beauty editor and I spend lots of time writing about products, but I'm also a real life woman who spends a lot of time talking to every day women who aren't "in the industry".…like my mom, my bff's, aunts, cousins and friends. And let me tell you — these ladies are (ALL CAPS!!) confused when it comes to what skincare to buy.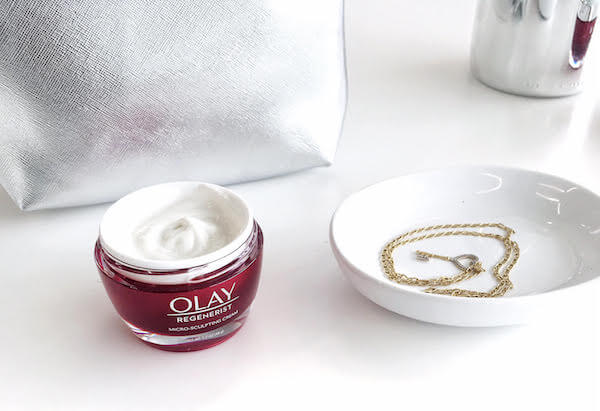 In a recent study, Olay learned that my mom, bff's, aunts, cousins and friends aren't alone — In fact, their research revealed that women generally feel confused, overwhelmed and oversold  when shopping for skincare (at both drugstores and department stores). Duh, newsflash (not really)! This is what I've been saying. Navigating skincare is daunting for the average woman. And to add insult to injury, for many women, the deciding factor is usually cost. The (flawed) wisdom is: If it costs a lot it must be good.
Oh, pumpkin! No. *sad face*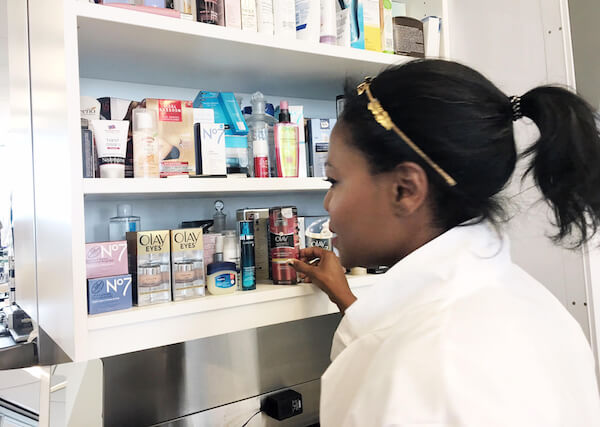 So, in doing their civic duty (tee hee!) the Good Housekeeping Institute tested the $27 Olay Regenerist Micro-Sculpting Cream against ten prestige face creams…including one, that costs four hundred and forty American dollars. Yes, $440!
So what's the tea?
Well, before getting to the tea, let's first understand how Good Housekeeping rolls.
Meaning: Is the product testing process really rigorous or nah? Is it easy to earn the Good Housekeeping Seal Of Approval?
Ma'am, no! It's not an easy feat at all.
In a nutshell, The Good Housekeeping Institute is the foremost leader in consumer product-evaluation. And after some pretty hardcore testing of over 10,300 measures, the scientists in the Good Housekeeping Institute Beauty Lab concluded that Olay Regenerist Micro-Sculpting Cream out-performed all ten pricey, prestigious creams in the study. Yes, even the one that retails for $440 (I'm still like, "Wow, $440, that's like a few weeks of Summer Camp for Phoebe")
The results were astounding. In blind testing, consumers preferred Olay Regenerist Micro-Sculpting Cream 80% of the time over pricier creams, remarking that Olay felt "rich" without feeling heavy. During testing, at the three-hour mark, consumers reported that Olay hydrated skin 400 times better than a cream nearly 18 times its price. On average, in a 24-hour period, it was reported that Olay increased moisture by 50%.
So, what does this all mean?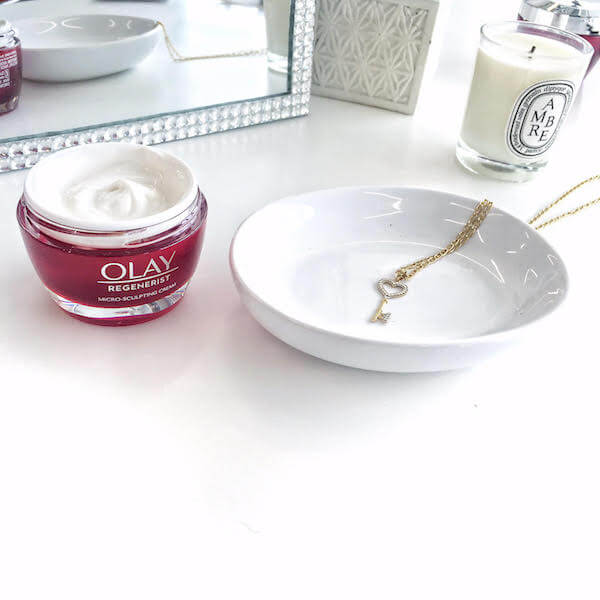 #1 – Congrats Olay! You did that! No, really, you've outdone yourself this time!
#2 – You, yes you (my mom, bff's, aunts, cousins and friends)…can buy and use Olay Regenerist Micro-Sculpting Cream with complete confidence that it indeed rocks. And by "rocks", I mean — The Good Housekeeping Institute conducted their trials and concluded that Olay Regenerist Micro-Sculpting Cream lives up to the following claims:
– Visible wrinkle reduction begins with the first use
At Day 1, hydration and brightness is boosted
Within 2 weeks, skin is visibly firmer and has more bounce
Within 4 weeks, the appearance of wrinkles is dramatically reduced. In clinicals, some reported a 10 year reduction in the look of skin's age.
Essentially, Olay Regenerist Micro-Sculpting Cream delivers all of the results for a fraction of the cost of those schmancy creams you've been eying. The formulation has even been upgraded to include Carob Seed extract, which helps to regenerate and repair skin's texture.
So, you're probably thinking, "Felicia, can you bottom line this thing for us?" Ok, so here you go:
I'm a Beauty Editor, and it's my job to shop, sift, research and test tons of skincare products (sigh, and recover from the allergic reactions when things go south). But you, on the other hand, might not have the luxury of time and resources to subject your skin and wallet to the trial and error of testing face cream after face cream after face cream. So here's where my personal stamp of approval (prior Olay Regenerist Micro-Sculpting Cream review here) and the Good Housekeeping Seal of Approval prove incredibly valuable.
If your current skincare wisdom leads you to believe that you need to spend a lot of money for a superior skincare product, you're going to be needing to think again.
*This post is sponsored by Olay. Opinions are all my own