One of my favorite nail art trends of all time is the combo of matte and shiny. It's just SO freaking cool!! I think you get the best results with black nail polish, so that's what I'll be using. However, feel free to substitute with a (dark) color of your choice as I show you how to get  quilted matte and shiny nails in just 3 steps.
Supplies:
Revlon ColorStay Gel Envy,  Blackjack
Sally Hansen, Big Matte Top Coat
Nail tape, found here
Tutorial: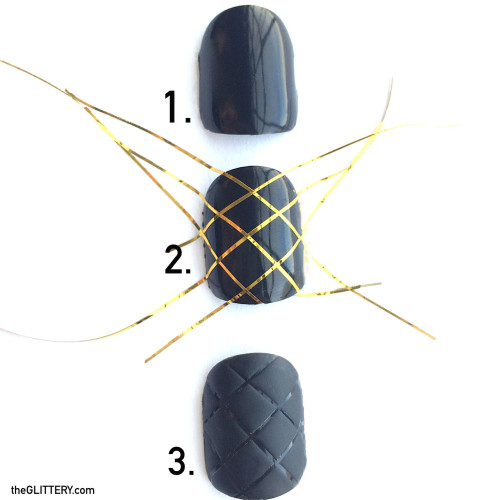 Step 1: after applying your base coat, paint 2 coats of Revlon ColorStay Gel Envy, Blackjack. Let completely dry for 10-15 minutes.
Step 2: apply 6 pieces of tape on your nail. Start on the top left and place 3 pieces, 1 after the other on a diagonal, ending at the bottom right. Then put 3 more pieces on top of your original 3 to make a criss cross pattern (start with 1 on the top right and end at the bottom left). Make sure the tape is pressed tightly on your nail.
Step 3: take your Sally Hansen Big Matte Top Coat and apply 1-2 coats over the entire nail/tape. Immediately (and carefully) remove all 6 pieces of tape and admire the fabulousness you're left with! Make sure you let your nails dry for a gooooood 20-30 minutes before touching them. Matte top coats tend to take suuuuper duper long to dry!
Want more nails?! Visit theGLITTERY.com and follow @theGLITTERY_ on Instagram!