Nothing beats the sun kissed glow of an Island vacation, especially when you can flaunt it during a long winter living in a place where a Cheeto is president. Sigh.  We are several weeks away from winter's end which means we'll be covered from head to toe and praying our skin doesn't crack and become unrecognizable by spring. If you don't have the luxury of a warm getaway to kick start your spring/summer, these products will help you fake the head-to-glow of an island jaunt.
Inside Out Glow
NeoCell Glow Matrix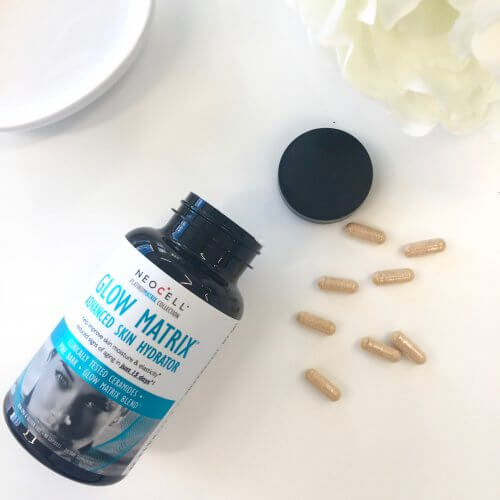 A supplement is not what you'd typically see at the top of a list to help you get the glow.  However, NeoCell Glow Matrix helps to improve skin's moisture, the building block of a good long lasting glow.   This product is formulated to work from the inside and "support the skin's lipid barrier which helps to lock in moisture and smooth the skin." Active ingredients include: Ceramides, Hyaluronic Acid, Pine Bark Extract, Astaxanthin, Lutein & Coconut Water Powder. NeoCell Glow Matrix has been shown to improve the look of skin in just 15 days. In addition, it improves skin's elasticity & moisture by up to 36%.
Water
It's good for you. Just drink it. The End. 😂
Exfoliate To Glow – Face
If you're hydrated from the inside out your skin might not feel dry, but it can look lackluster if you are not exfoliating.  Exfoliating helps to remove dead skin cells. The removal of dead skin cells speeds up cell turnover so you are left with clearer more radiant skin. Say it with me: skin that GLOWS!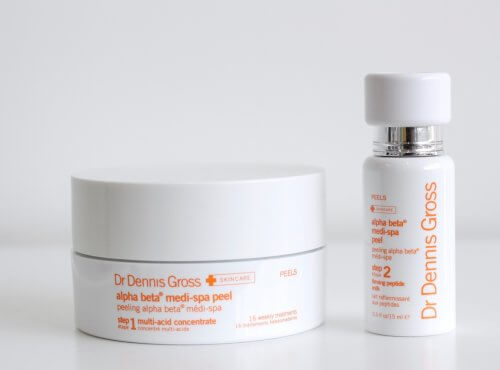 This two step spa-quality peel is the winning combination you need to get an all over face glow that's sure to be the envy of your friends.  Active ingredients of Dr. Dennis Gross Skincare Alpha Beta Medi–Spa Peel include:
Glycolic Acid to reduces the signs of aging
Salicylic Acid to reduces pore blockage and support natural collagen production
Rehmannia Glutinosa Root to support natural collagen and maintain acid efficiency
Peptides to firm and tone skin's appearance
Use this peel once per week and clear, smooth, radiant skin is yours!
Sjal Pearl Enzyme Exfoliating Mask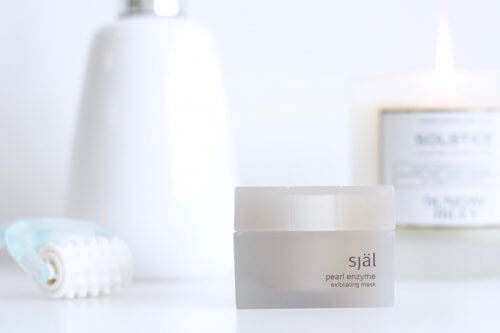 Jam packed with over 30 ingredients,  including crushed gemstones, the Sjal Pearl Enzyme Exfoliating Mask is formulated to refine skin's texture and boost radiance.  It's loaded with antioxidants and natural acids from sugar cane, maple, lemon and orange.  Enzymes from mushroom, pomegranate, papaya, and pumpkin help to exfoliate and even texture, while shea butter, castor oil and algae extract help to boost moisture.
Exfoliate To Glow – Body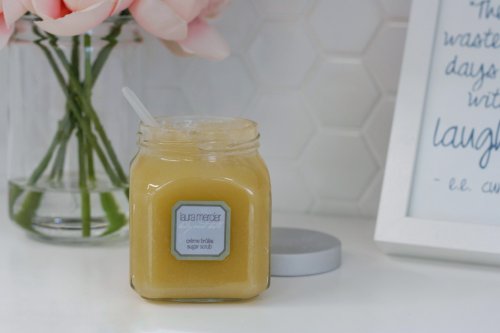 I have to start by saying that this is not your mama's sugar scrub. In addition to sugar, it contains finely milled pistachio shells and exfoliating beads to gently exfoliate the skin. While rough skin is being sloughed away, glycerine, macadamia nut, sweet almond oils and Vitamins E and A help to moisturize, soothe and protect.  The fact that this scrub smells like artisanal French pastry is a bonus. (belk.com, $50)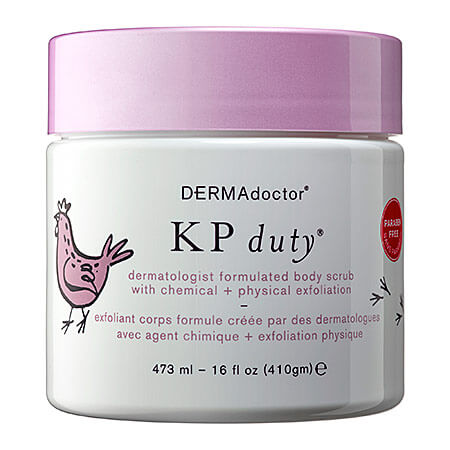 This is a long time favorite. Not only does DERMAdoctor KP Duty Body Scrub have physical exfoliators, but it also contains polylactic, glycolic, lactic and azaleic acids to help even out everything below the neck and stimulate collagen production. While your skin will look smoother in the short run, with continued use (and paired with a proper moisturizer), you'll also notice a firming effect. (Sephora.com, $46)
Moisturize To Glow – Face
Let's say everything is working from the inside out, you're drinking enough water and you've got your exfoliating game going once per week like clockwork. What can you do to take it to the next level? MOISTURIZE!
Peter Thomas Roth Water Drench Hyaluronic Cloud Cream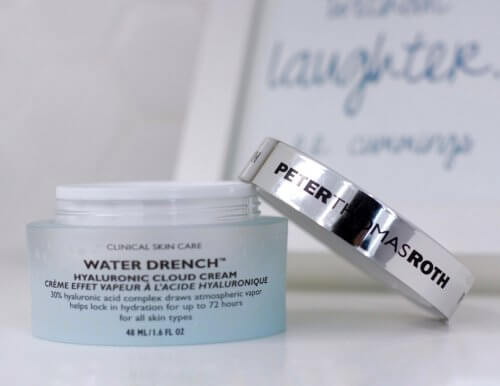 Hyaluronic Acid is "a potent hydrator that constantly attracts and retains up to 1,000 times its weight in water from moisture in the atmosphere."   Peter Thomas Roth Water Drench Hyaluronic Cloud Cream contains 30%  Hyaluronic Acid as well as  ceramides, elderberry extract, and ProHyal+ (a PTR ingredient)  to further hydrate skin.  This cream completely sinks into my skin and feels absolutely amazing!  (sephora.com, $52)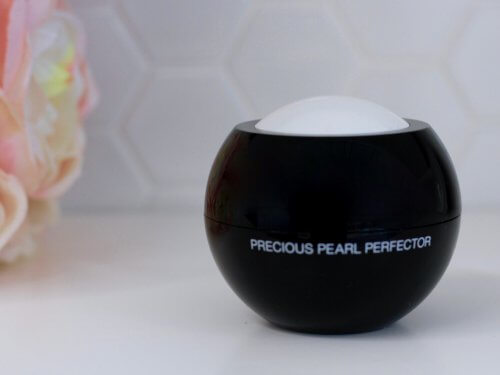 Oprah knows things. She named the Edward Bess Black Sea Precious Pearl Perfector as one of her favorite things in 2014. I recently tried it and have to agree that it is quite magical.  Not only does it contain crushed pearls that act as optical reflectors to diffuse imperfections, but it also contains moisturizers to keep skin hydrated all day long. Use under makeup or alone and you'll glow like a halo. (netaporter.com, $78)
Moisturize To Glow – Body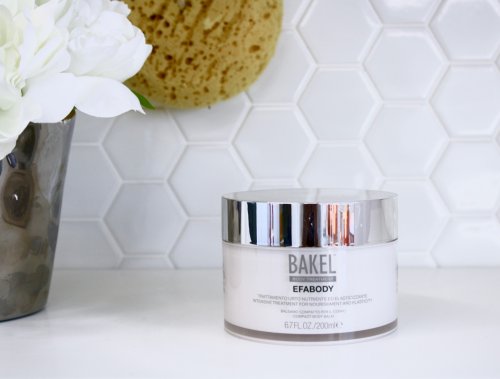 Looking for a luxe body treatment? Look no further! Bakel  Efabody Body Treatment is made with only the finest oils and butters. It is a rich and creamy body butter cream containing argan oil, chamomile oil,  castor oil, cotton seed oil, squalene and more.  It melts into skin and imparts a subtle glow. Bakel Body Treatment is best used right after the shower when skin is still slightly damp. (dermstore.com, $148)

Body Bronzers and sunless tanners are great but sometimes, despite our best efforts, they transfer unto clothing. Jergens Natural Glow+ Firming Moisturizer gradually darkens AND firms skin — you'll see results in as little as 7 days. It's available in two options, fair to medium and medium to tan.  I use medium to tan. #obvi. (Ulta.com, $9.99)
Makeup To Glow
Topical glow getters are great because results are instant! You also have the flexibility to be as lit as a lightbulb in any area you so choose.
Beauty Pie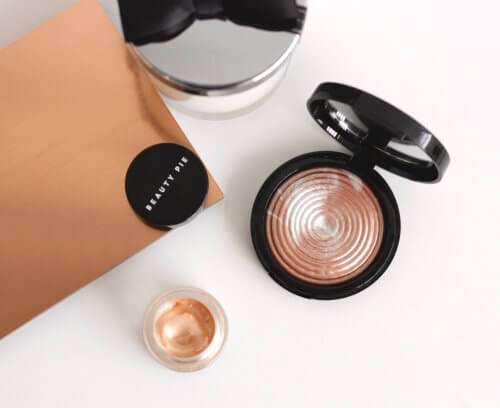 On a budget but LOVE high quality beauty products?  You definitely need to check out Beauty Pie.  It's a paid monthly beauty membership service that sells you amazing beauty products at factory cost. There is no automatic monthly mailing, you simply pay for membership so you can buy beauty products at factory cost. I'm crushing hard on their Pro-Glow Highlighter ($5.89, member price) in Cosmic Shine and Triple Beauty Liquid Luminizer in Golden Swirl.  Both can be used as highlighters.  The Triple Beauty Liquid Luminizer ($2.89 member price) can be mixed into your foundation if you want to beam all over. (Beautypie.com, starting at $2.89)
Votre Vu Silk Stockings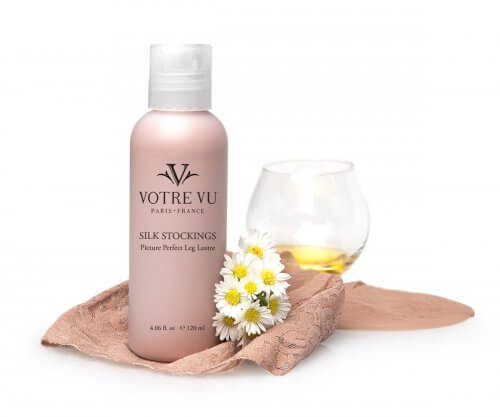 What if I told you that you could wear silky stockings on your entire body without getting crazy looks? Good news, you can! Votre Vu's Silk Stockings is a lightweight moisturizing 'glowtion' that blurs the look of imperfections and imparts radiance wherever it is applied.  I have dark skin and this works on me. (votrevu.com,  $34)
ELF + Clarins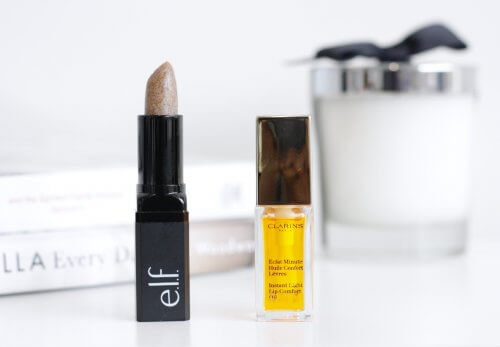 I bet you thought I forgot about the lips.  This ELF Lip Exfoliator (Ulta.com, $3.00) is genius because it's in the form of a lipstick. I love to use it after the shower by gently rubbing it across my lips until I feel smooth, flawless lips emerge. I follow with Clarins Instant Light Lip Comfort Oil  (Sephora.com, $24) — a blend of  oils that includes hazelnut and organic jojoba oils.
How Do You Fake the Head-to-Toe Glow?  Leave it in the comments. 🙂