As to not throw anyone under the bus, I'll be the first to admit — I don't feel 100% bikini ready. There. I've said it! And here's why…1) I know I've been slacking in the gym and 2) because of the epic neglect that my legs are forced to endure. Allow me to expand on reason #2 — I rarely take the time to properly exfoliate and moisturize my legs. And, boy is it catching up with me. But, luckily, I am highly skilled in the fine art of "girl-get-it-together". I know exactly what to do to turn this ship around. So if you've been neglecting your skin for months and not suddenly find yourself needing to be beach presentable, like yesterday — read on as I share a how-to and the tools you'll need to boost your body and glow from head to toe…well, mostly just down below (legs, chest, & arms):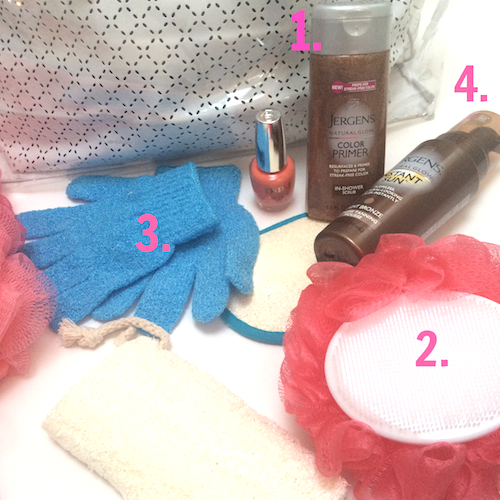 Smartly priced at under $6 per item, ULTA.com's Body Benefits by Body Image® skincare collection includes everything you need for Operation Exfoliation and indulgent spa like treatments at home.
Start with an exfoliating body scrub, or DIY it with a mix of sugar and coconut oil.
Again, throwing myself under the bus, but…I have cellulite. And there's no reason for you to 'fess up. But if you suffer as well (or have a "friend" who deals with dimples) the Skin Smoothing Beauty Massager is great for increases circulation, which can help to improve the appearance of cellulite. This sponge creates a rich lather to help smooth and polish, revealing soft, young-looking skin. And the nubby side massages.
To enhance the process and really get spa-like results use Bath Gloves: These gloves are great for cleansing and exfoliating. They gently scrub your body squeaky clean while the textured nylon provides an invigorating cleansing, leaving you fresh and fabulous! Alternatively, Natural-Fiber Loofah is excellent for helping you retain your skin's radiance by delicately removing dry or flaky skin. Both are great options – it really depends on your exfoliating preference! (I prefer the gloves.)
Once out of the shower, follow up with a natural looking self tanner. It's a great way to boost skin's glow and conceal cellulite and, ahem, lack of gym.
These are just a few of the Body Benefits products I'm currently using to prep for the beach. But to see more, check out the entire Body Benefits by Body Image® skincare collection at ULTA and get all the essential products needed to indulge in spa-like treatments whenever you want.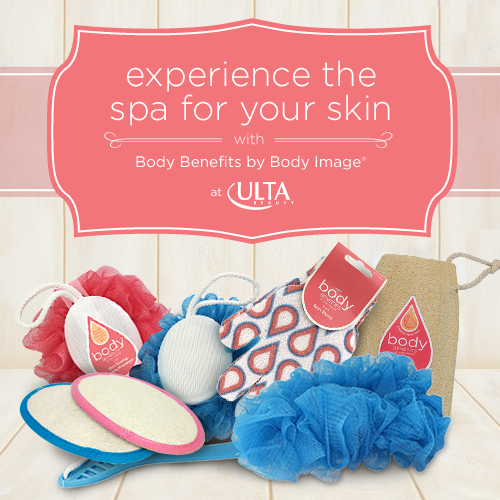 WANT TO WIN?
Here's how!
Follow me on Instagram.
Like my "Body Benefits" post on Instagram and leave a comment to share a tip on creating a spa experience at home.
I'll select the best tip and the winner will win:
The Body Benefits collection (cleansing bath gloves, luxury bath brushes, skin-smoothing beauty sponges, and a 2-in-1 polishing and exfoliating body buff) and a $250 ULTA gift card to use for an exclusive day of pampering at The Salon at ULTA. That's a lot!!
CAN'T WAIT TO WIN?
Head to ULTA now and check out the complete Body Benefits by Body Image spa collection!
Follow the conversation with #spa4yourskin and #ULTA
*This post is sponsored. All opinions are my own