SHOW:
Sandy Liang FW 15
BEST BEAUTY: 
Romantic, undone hair with a boyish side part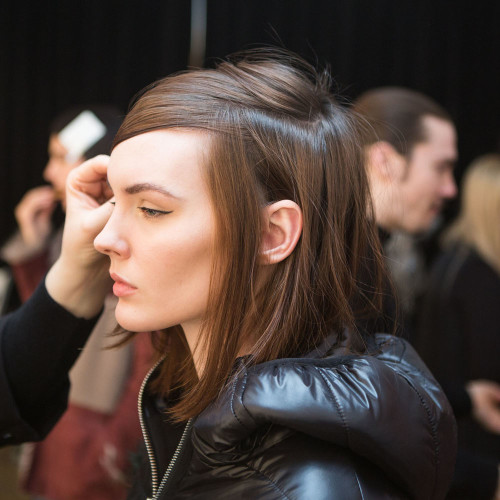 GET THE LOOK:
O&M Global Creative Director Janelle Chaplin created a soft, airy look with a low-distressed side part. To dupe the look, first spritz dry hair with a combination of O&M Know Knott Detangling Spray and water to enhance the hair's natural texture. Next, apply O&M Rootalicious Root Lift Spray onto fingertips and rake through hair from roots to ends.Dab on O&M Frizzy Logic Shine Serum throughout hair to smooth ends and add shine. Blow dry with a round brush, redirecting all hair forward to the upper half of the crown to add body and volume. Create a deep, distressed side part on one side of the head. Take a small section of hair from the temple, just under the part, and tuck behind the ear. Finish with a light dusting of O&M Surf Bomb Sea Salt Texture Spray to bring back a slight natural texture. Voila!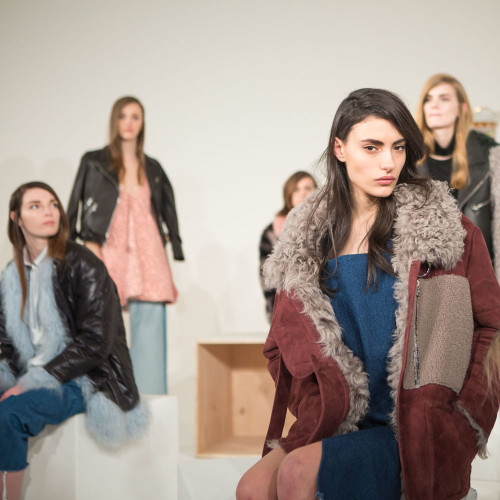 'Texture' (coupled with lots of length), so far, is the biggest hair trend I've observed this season. Almost every show I've covered has displayed some form of texture. And hair length is a major focus….which is why I'm really hopeful that my new Viviscal® routine delivers. I've just recently started incorporating the Extra Strength Dietary Supplements into my hair care routine. While I like long hair, I've never been gaga for crazy length. BUT NOW I WANT IT! I'm seriously craving boob-grazing hair for summer…with lots of texture and natural wave. Taken twice daily, for 3-6 months, Viviscal® begins to boost hair growth. I've got a beach trip in July…so, OMG, flowy beachy waves will (fingers crossed) be mine in St Lucia!!
Again, I'm new to Viviscal®…but based on referrals from lots of friends and new moms (who've suffered postpartum hair loss) I'm really confident-slash-hopeful that Viviscal® will work for me. I started taking the Extra Strength Dietary Supplements right before Fashion Week, and while I can't report on down-to-there-hair just yet, I can truthfully say that I've experienced zero side effects and no adverse reactions. So let's keep this thing going..
For more on Viviscal®, visit  www.viviscal.com and @viviscal
For more on O&M, visit www.originalmineral.com