Designer: Jenny Packham
Hair
Stylist: Jeanie Syfu for TRESemme
Inspiration: The Jenny Packham Spring 2014 Collection is loosely influenced by the 70's Australian cult classic, "Picnic At Hanging Rock," a beautifully haunting story about a group of boarding school girls who are taken on a picnic to Hanging Rock, mysteriously wander off in a trance and disappear. (Sounds like Molly was involved.) To translate this into runway hair, Syfu fused bold 70's waves with romantic texture and volume.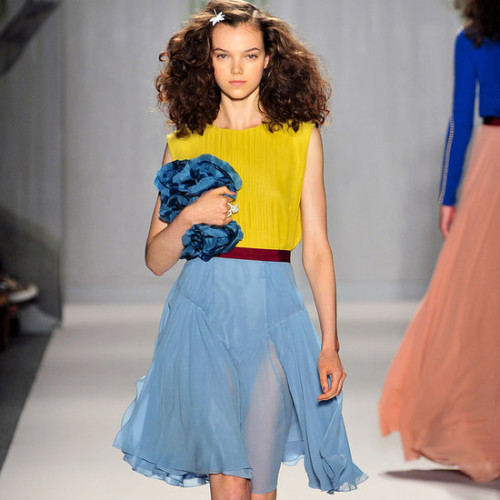 How To:
Apply TRESemme Thermal Creations Mousse liberally and blow-dry with a Mason Pearson brush.
Spray TRESemme Thermal Creations Curl Activator Spray (no jheri) on each section and curl hair with a smaller iron at nape, medium-sized barrel from the ears to crown and 1″ barrel iron on top.
Once cooled, take pins out and tease hair from roots working your way down to ends to lift curls and create texture.
Spray with TRESemme 24 Hour Body Finishing Spray for long-lasting volume and touchable hold.
As a finishing touch, clamp a barrette above the temple to secure the style in place. Voila!
Nails
Manicurist:  Gina Edwards for Essie
Inspiration: Mystical fantasy. A 1900s Edwardian era fairytale with a 70's feel.
How To: You'll need four Essie colors.
Apply a coat of Eternal Optimist 
Tone it down by applying a coat of Allure (great layering tool).
Next up: glitter! A Cut Above (pink glitter) is layered under Set in Stones (silver glitter). Starting at cuticle, the glitter is lightly dabbed so that there is a trickle down effect that slowly fades away.
Makeup
Makeup Artist:  Talia Shobrook for Laura Mercier
Inspiration: Combining a "flush of innocence with a hint of naughtiness," the look is skin focused with a youthful, fresh, ethereal vibe. Glitter was again the focal point as it highlighted the model's eyes.
How To:
Pro Tip For Using Glitter: To pick up errant glitter, use a clean mascara wand and press it down on skin. It will pick it right up!
—
 For more of my everyday shenanigans, find me, Lauren (aka @inawordfab) on Twitter, Facebook and Blog.