My favorite thing about New York Fashion Week is the never-ending nail art inspiration! Unique patterns, gorgeous textures and mind-blowing color pairings are crack to a nail addict like me. I'm currently loving this Supima dress and felt it was only fitting (pun intended) to make it the DIY mani of the week! Follow my 3 steps below to get fashion at your fingertips!
Supplies: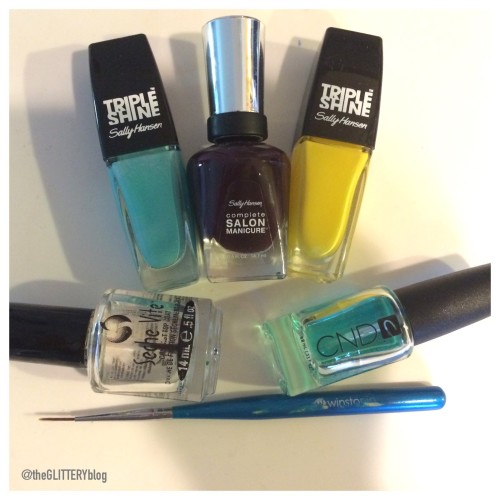 Tutorial: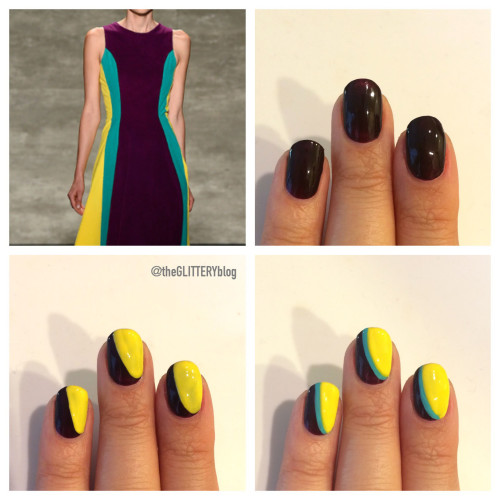 Step 1: after applying your base coat, paint 2 coats of Sally Hansen Complete Salon Manicure, Pat on the Black. Wait a few minutes to dry.
Step 2: take Sally Hansen Triple Shine, Lemon Shark and use the brush in the bottle to paint a curved/diagonal line from the cuticle to the tip of your nail– in 1 stroke. Fill in the rest of the shape with more yellow nail polish if it didn't cover the nail in 1 stroke. Wait a few minutes before moving to step 3.
Step 3: using your skinny nail art brush dipped in Sally Hansen Triple Shine, Dive In, outline the left side of your yellow- again in 1 stroke. It's easier to make a straight line if you paint in 1 full stroke. You can go over the line as many times as you need to make the color pop.
Lastly, seal the deal with your top coat! I have a a super-severe love affair with Seche Vite. It's a thick, glossy, quick-dry top coat that magically transforms your regular polish to look like gel!
Want more nails?! Check out theGLITTERY.com and follow @theGLITTERYblog on Instagram!