America's birthday is one of my favorite days of the year! It stands for a smorgasbord of soooo many wonderful things — summer, BBQ's, family, friends, fireworks and best of all….4th of July Fireworks Nail Art! To get the party started, I have a super easy tutorial that brings the sparkling fireworks straight to your fingertips!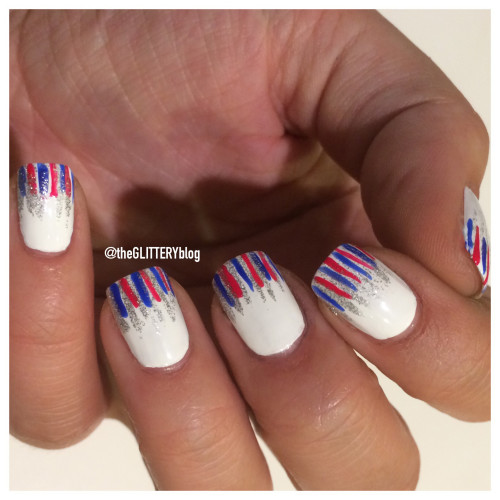 Supplies:
Tutorial: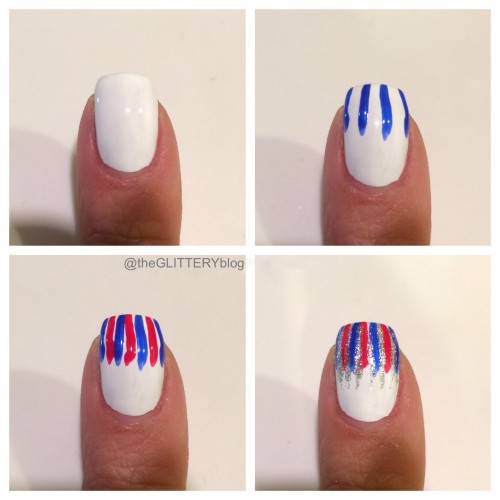 Step 1: after applying your base coat, paint two coats of your white polish (I used OPI, Alpine Snow). Wait for it to dry.
Step 2: take your blue striper and draw semi-wavy lines from the tip of your nail to half way down, leaving space in between each one.
Step  3: using your red striper, repeat step 2, again leaving a little space.
Step 4: take your silver glitter striper and fill in the blanks in between your blue and red lines. The silver lines can be a little longer to emphasize the fireworks effect! Wait a few minutes for the polish to dry and then seal the deal with your top coat!
For more patriotic nail art tutorials, visit theGLITTERY.com and follow @theGLITTERYblog on Instagram!