Amy Schumer's monologue at the MTV Movie Awards was colorful to say the least, but her Balmain dress on the red carpet was pure black and white royalty. I am obsessed with this dress and knew right away it HAD to be my mani of the week. Keep reading to learn how to get the look in just 3 steps!
Supplies: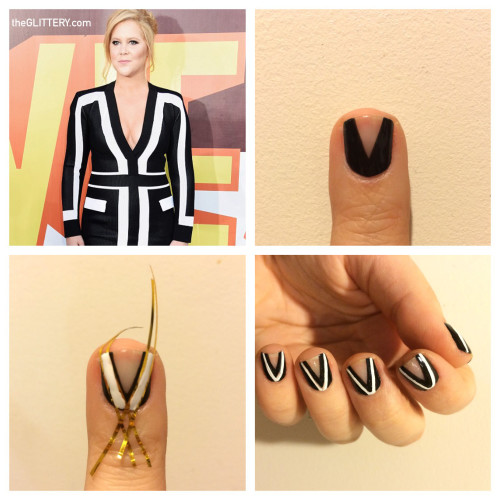 Tutorial:
Step 1: after applying your base coat, take your black nail polish brush and paint a diagonal line starting at the base of your nail. Do the same to the other side and you'll be left with a 'V' of negative space in the middle of your nail. Let dry for a good 10 minutes before moving to Step 2.
Step 2: Cut 4 pieces of your nail tape. Place 2 pieces on each side of your 'V,' leaving a little bit of space in between each one (the picture of this will really help you understand what I'm talking about. It's hard to put into words!!) Then paint white polish in-between the tape.
Step 3: Quickly remove the tape, wait another 10 minutes and then seal the deal with your top coat!
Want more nails?! Visit theGLITTERY.com and follow @theGLITTERY_ on Instagram!