To say we would be nowhere without mothers is perhaps the understatement of the millennium, if not the biggest understatement of all time. All moms deserve love and appreciation, after all, you wouldn't be here without her.
The Gift of "Green" Beauty
Let's start with the mom who eats organic and pays very close attention to what she uses in her hair and on her skin.  For this mom reading beauty product labels is just as important as checking produce stickers and recycling.
Nourish offers a complete line of USDA certified organic body care products that perform just as well some of its 'traditional' counterparts, but without harsh chemicals. All products contain between 95%  and 100% organic ingredients. Create a care package of products for mom by selecting several items from the wholesome line of products, putting them in a recycled basket and tying it with a beautiful bow. Chances are your basket will be later returned with a gift for you…mom is so resourceful!
Vapour manufactures high quality natural and organic cosmetics and skin care products that deliver amazing results. Send mom a gift card and let her discover products on her own.  The gift cards are available from $25 to $200 and are delivered via email, so — no paper is wasted.
Gifts for Mother-in-Law
No matter what kind of horror stories you hear about mothers-in-law, remember — she is the reason you have the love of your life.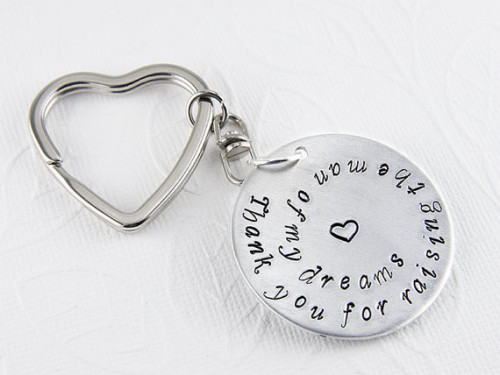 Custom Charm
Show your appreciation to your Mother-in-Law with a beautiful charm that says "Thank you for raising the man (woman) of my dreams."   Visit www.etsy.com and  search "Mother in law Charm"  There is something for every budget. You have bigger problems on your hands if she is not at least a little impressed by this.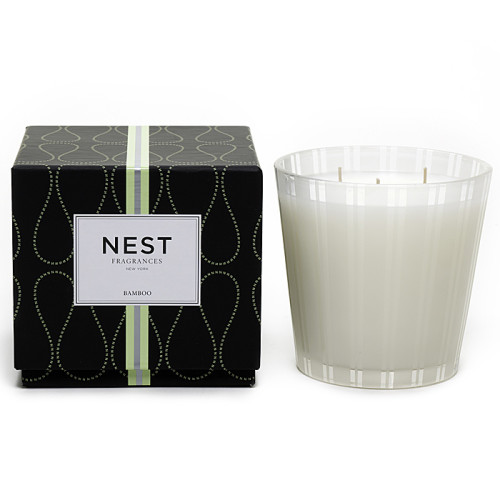 Impress your mother-in-law with a beautiful NEST 3 wick candle that burns for up to 150 hours and fills her home with an aroma that will ensure she thinks of you with fondness (and maybe even love) every time it burns.  Available in multiple scents. $48-$54
The Gift of Beauty Gadgets
Is your mom into the latest gadget?  Why not give her the gift of a beauty gadget?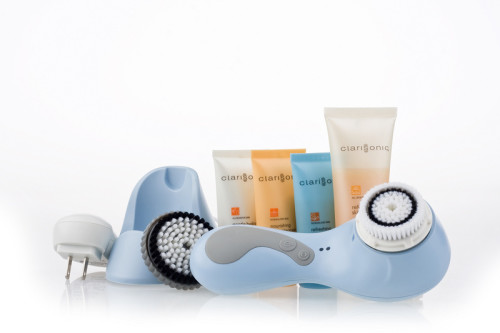 The Clarisonic Aria Sonic Skin Cleansing System features patented sonic frequency of more than 300 movements per second to clean away 6 times more makeup and 2 times more dirt that washing with hands alone. The Clarisonic will boost any skincare regimen, reduce the size of pores and help skincare products work their best.  Your mom will definitely thank you over and over again once she notices the change in her skin.  $225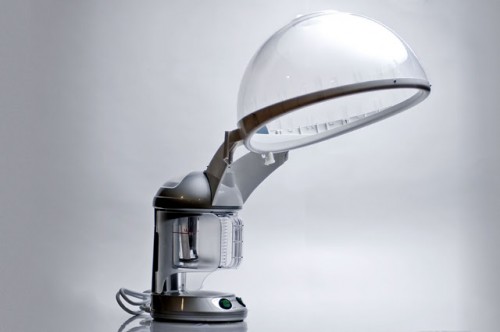 Huetiful Hair & Facial Steamer
Huetiful is an award winning hair an facial steamer the has been proven to moisturize and hydrate natural and chemically treated hair up to five times better than just deep condition alone. The device quickly converts to a facial steamer allowing for at-home spa-like facials. $129.95
The Gift of Great Skin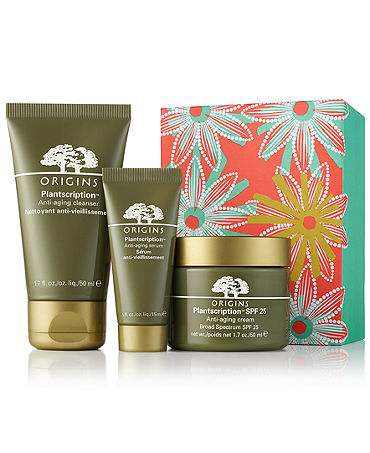 Origins Grow Younger Set
Great skin is always in, no matter the age. Origins Grow Younger Set  contains Plantscription SPF 25 Anti-aging cream, Anti-aging cleanser and Anti-aging serum. These products fight four signs of aging: fine lines/ wrinkles, discoloration, uneven skin tone and moisture loss. Your mom will notice a difference in her skin in four weeks or less — so expect a call. $58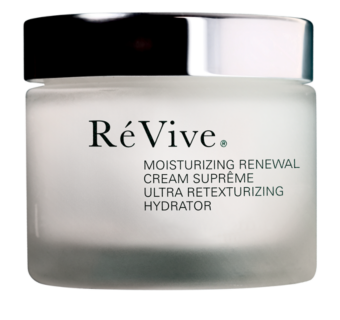 Revive Skincare
Make the ultimate skincare gift to mom with products from Revive Moisture Renewal Skincare Collection.  This collection addresses the signs of aging by restoring skins moisture, luminosity and radiance. If you treat Mom to only one product from this collection, make it the Moisturizing Renewal Cream Suprême Ultra Retexturizing Hydrator.  This cream is "powered by RES, Glycolic Acid and skin softening moisturizers. This powerful perfecting night cream gently exfoliates, retextures, renews and intensely moisturizes facial skin." Don't be surprised if this luxe cream is added to her wish list for every special occasion. $195
The Gift of Fragrance
Scent is the strongest sense tied to memory and with these wonderful fragrance options your mom will think happy thoughts of you with each spritz.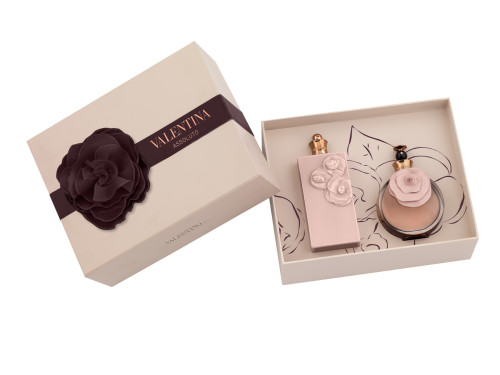 Notes of peach and truffle open Valentina Assoluto while a fragrant bouquet of jasmine, tuberose and orange blossom slowly opens up in the middle. Patchouli, oak moss and cedar wood anchor this fragrance giving it a spicy, somewhat sultry finish. (See my complete review here.) $119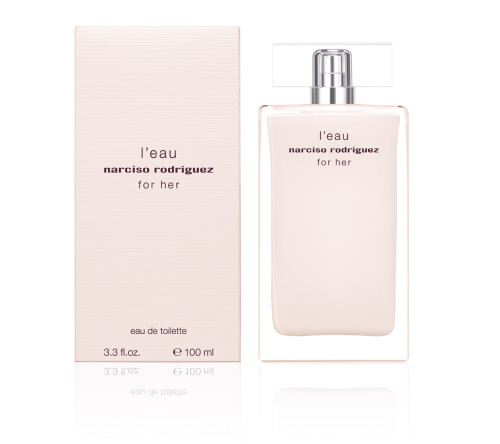 Narciso Rodriguez L'Eau For Her
This fragrance is light and sensual.  If your mom shies away from more mature, heavy fragrances, this Eau de Tolliette is perfect for her.  Top and middle notes include; cyclamen, jasmine, sparkling pink peony, rose, amber and lily of the valley. Musk and chypre accords of patchouli anchor this fragrance adding just the right about of maturity. $77 – 104
The Gift of Relaxation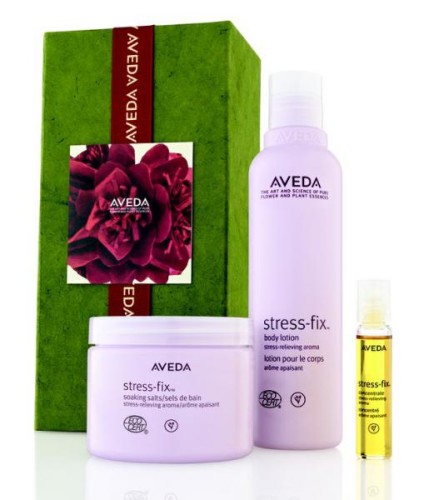 Aveda De-Stress
Stress is a leading cause of premature aging and no one wants to look old.  Give mom some relaxation — a gift that will keep on giving. The three products in this gift set are designed to facilitate relaxation and contain essences of lavender, lavandin and clary sage. They are made from wholesome, organic ingredients using the science of aromalogy and the power of pure essential oils. $66. http://www.aveda.com
Spafinder
When all else fails, get a gift card to her favorite salon or spa or introduce her to something new. Try http://www.spafinder.com where you can find full service spas, travel deals and even fitness classes in the United States, Canada and the United Kingdom. Whatever you do for the Mom in your life this mother's day, do it with love and an abundance of appreciation.