I'm really proud to take part in a very important campaign with Unilever Project Sunlight #ShareAMeal. The goal of my participation is to help spread awareness about the the alarming fact that many families, on a regular basis, are going without meals. Even more shocking, much of this is happenng right there in the US…and yes, very likely, right in your own neighborhood. Every day, parents struggle to provide nutrtious meals for their families and the impact is heartbreaking. But there's something we can all do to help….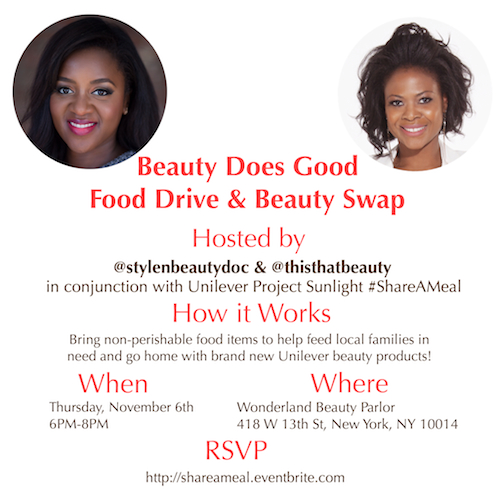 I'm proud to partner with Danielle Gray of The Style And Beauty Doctor to host — "Beauty Does Good Food Drive & Beauty Swap"
Participating is easy peasy — All you have to do is bring *non-perishable food items and in exchange you'll go home with Unilever beauty essentials from brands like Caress, Suave and more.
Join us at Wonderland Beauty Parlor 418 W 13th St. NY, NY on Thursday, November 6th from 6PM-8PM.
*While supplies last. Food will be donated to the Food Bank of New York City.