As most of you know, I recently turned 40. As a brief refresher, there's a whole hashtag situation on Instagram (#WaitWhatSheIs40 ….I started the hashtag but others have chimed in to celebrate their birthdays as well).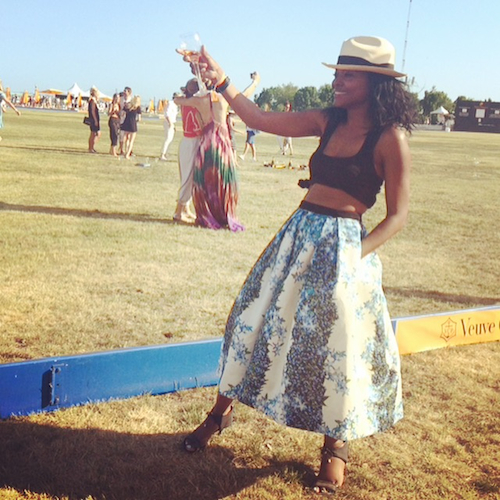 I've always been devoted to having a great skincare regimen my entire adult life…so turning 40 wasn't a major "OMG-Do-I-Look-Old?" moment for me. Around age 20, I embraced a daily skin care routine centered on thorough cleansing, acne treatment and sunscreen. As I cruised into my mid 20's, I added serums and eye creams. By the time I was 30, I had a good 10 years of regular facials and good skin care habits under my belt. I've always prided myself on taking care of my skin, and in turn – my skin generally looks a lot younger than its 40 years.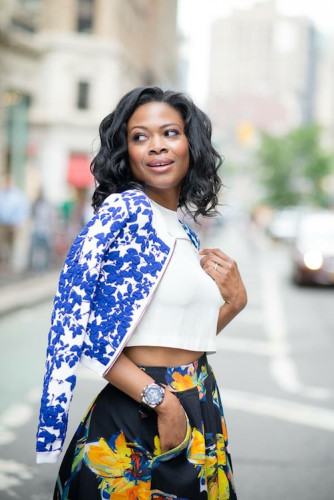 Over the years people have mostly attributed my "good skin" to genetics. True, my mom is in her 60's and we easily pass for sisters….but I've always wondered about the whole nature (genetics) versus nurture (skin care products) thing. Can you change the skin you were born with? Well, this leads me to a very interesting (and promising!) skin care study that has me intrigued! Olay recently presented its biggest, most comprehensive Multi-Decade and Ethnicity (MDE) research study to date at the World Congress of Dermatology, which aims to understand the skin aging process like never before and create skincare solutions to help one look ageless.
Well…I want to look ageless! Don't you?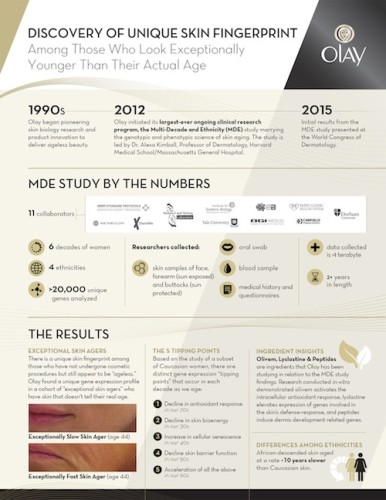 Conducted with Dr. Alexa Kimball of Harvard Medical School, the study examined 350 women from four different ethnic groups (African, Asian, Caucasian and Hispanic). Participants ranged in age, from 20's to 70's. And here's a bit of what the study uncovered…there are women, called "exceptional skin agers", who look dramatically younger than others in the same age group because they have a unique gene expression "fingerprint" of hundreds of genes. The most important thing to note is that all women have these genes and they can be influenced by environmental factors, lifestyle choices and even skincare habits. The study is a bit lengthy but it's a really good read if you're as geeked about skin care as I am: http://www.olay.com/en-us/skin-care-tips-and-articles/olay-discovers-unique-skin-fingerprint
So what can you do for your skin now? 
Well, Olay suggests that you get your hands on some Olay Regenerist Micro-Sculpting Cream quick, fast and in a hurry. The anti aging face cream is formulated with Olay's top-performing ingredients, such as Niacinamide(vitamin B3), peptides, Olivem and Lyslastine, which can shift the skin cell fingerprint of average skin (in vitro) and prompt skin to behave more like the skin of "exceptional skin agers."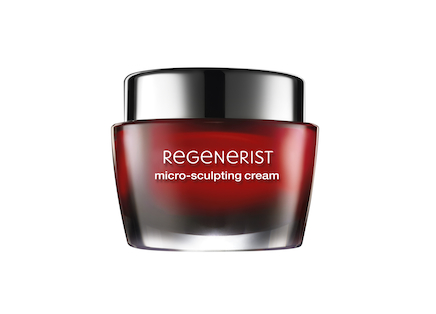 Wait, what? Do I need to do a little case study of my own and report back in a few weeks?….Hmmm….[stay tuned for that]
About Olay: Olay is a worldwide leader in skin care and has been trusted by women for over 60 years. Olay continues to hold to the philosophy it was founded on: to maintain a deep understanding of women's changing needs and to combine products that fit their needs with the latest advances in skin care technology. The end result—superior product performance women have come to expect from Olay. It brings healthy, beautiful skin to more than 80 million women on five continents.