DJ Khaled is not the only one who holds the keys. I'm here to share the keys to amazing holiday makeup look.
As your makeup case grows in size, you start including not only everyday makeup necessities, like foundation, eyeshadow, pencils and blush, but also more experimental items, like glitter. Glitter – also referred to by some as the reflective substance that attaches itself to everything – can be used in makeup as more than just an occasional compliment to your Halloween look.
The holidays are primetime to bust out the shimmer in select areas, whether it's on your eyes, lips, or nails. But beware – a hint of glitter on a key spot on the face is one thing, but streaks of loose glitter running down your cheeks is definitely another. Although its no secret that glitter tends to get a little messy, when applied carefully, it can also be playful and fun. It can also be easily removed at the end of a long night with very little fuss. Why limit yourself to just wearing glitter on your clothing? Here are a few tips on how to create glam, show-stopping makeup without going into glitter overload.
Know that all glitter isn't created equally: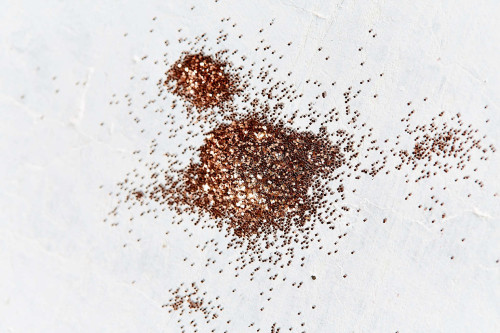 When choosing to incorporate glitter in your makeup look, it's crucial to understand that all glitter doesn't work for all occasions. Chances are, the fragments that are for sale at stores like Michael's won't work on your eyelids. Stick to shimmery eye shadows, or loose glitter pigments for the best results. 
MAC, "All that Glitters", $16 (MacCosmetics.com)
OCC Cosmetic Loose Glitter, $14 (UrbanOutfitters.com)
Prime those eyes: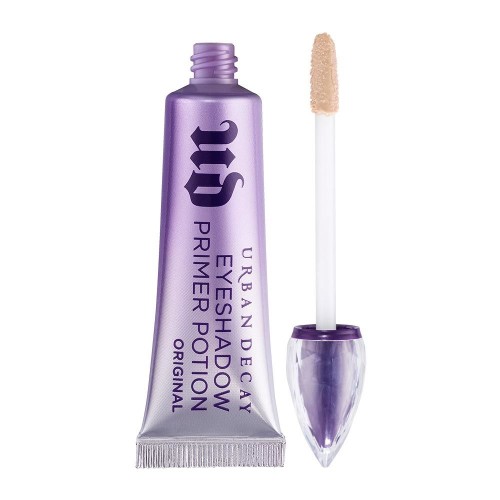 Like the start of all makeup, it's essential to begin with primer as a base. This will not only prevent the glitter from falling off your eyes, but also keep your eye game strong all night long. Go a step further, and spray the face with a setting spray for some added staying power.
Urban Decay Primer Potion, $20 (Sephora.com)
NYX Setting Spray, $7.99 (Ulta.com)
Use a damp brush: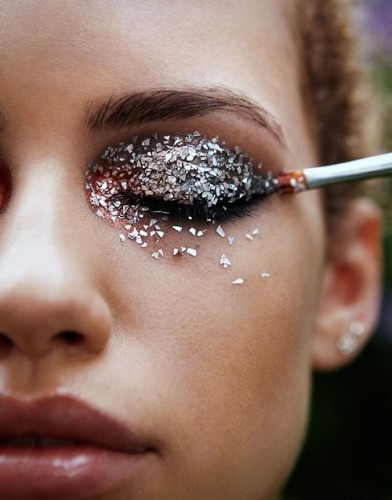 Using a damp brush such as this MAC 195 ($24, Nordstrom) to apply glitter is the easiest way to ensure that the product stays in its intended spot. To prevent random glitter flecks from interfering with your overall makeup look, hold a clean tissue under the eye while applying glitter.
Urban Decay, "Heavy Metal" Loose Glitter, $12 (UrbanDecay.com)
NYX, "Liquid Crystal Liner", $4.49 (Ulta.com)
Take off the night with an oil-based makeup remover – and a little scotch tape: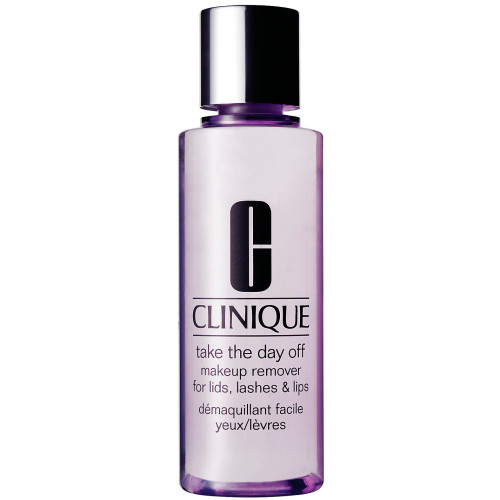 Want to get rid of your glitter fast? Using an oil-based remover is one of the easiest, cleanest ways to completely wipe off your makeup without making it a process. Use scotch tape to pick up any stray specks that may be left over on your face after cleansing.
Clinique Take the Day Off Makeup Remover for Lids, Lashes and Lips, $19 (Sephora.com)
Scotch magic Tape, $2.22  (Target.com)
Take glitter to the nails: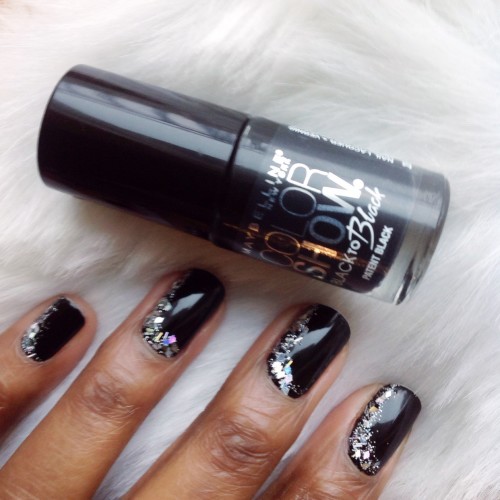 Applying glitter to the nail takes very little skill and dexterity.  You can get creative and add it just to the side of the nail, the tip of the nail or the top of the nail. Or keep it simple and apply a glitter top coat over the entire nail.
ZOYA, "Monet", $10 (Zoya.com)
Will you be adding glitter to your holiday makeup routine?