Clear, even toned skin is always in — no matter what's trending. There's nothing wrong with trying to master the art of glowing with makeup but I prefer finding products that will give me that filter free, healthy glow when I wake up in the morning. With that in mind, the DCL Multi Action Penta Peel is one of the first items I reached for when I was introduced to the DCL line of products.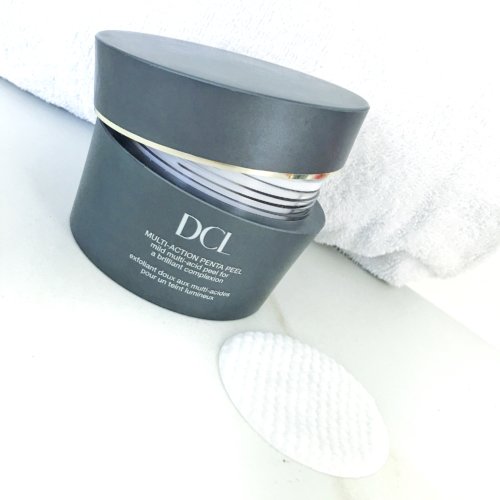 What is DCL Multi Action Penta Peel?
Described as a groundbreaking multi-purpose peel,  DCL Multi Action Penta Peel ($65) is developed with a blend of five naturally derived acids that gently resurfaces and renews even the most sensitive skins. The peel is in the form of easy-to-use pre-moistened cotton pads that you sweep across clean, dry face, up to 3 times per week.  The solution in the pads is lightweight and it feels like there's nothing on your face after using the pads.
DCL Multi Action Penta Peel Ingredients
The peel is formulated with Mandelic acid to refine texture, lactic acid  to smooth rough spots and soften the look of fine lines and wrinkles.  Phytic acid brightens and evens skin tone, while salicylic acid deeply clean pores and hyaluronic increases hydration. Other ingredients include:  alcohol denat, arginine, bilberry, orange, lemon, sugar and sugar maple extract.
How I Use DCL Multi Action Penta Peel 
I followed the instructions to the letter the first week I used the pads. My skin was a bit more radiant but felt a little tight after one week of use (3 times). I have combination-oily skin and the tight feeling for me is usually the first sign of dryness. Week two I decided that more was better and since the peel is so light, I would forgo the rinse and just use a moisturizer — BIG MISTAKE!  My skin became really dry and I was kicking myself because I knew it was my fault. In an effort to speed up my "glow", I actually succeeded in doing the exact opposite. #lessonlearned
I paused use of the peel and did a few Leaders Moisturizing Recovery Mask ($7) to rehydrate skin.  Kate Somerville KateCeuticals Multi-Active Revive Triple Peptide Cream ($175) paired with the Cover FX Custom Infusion Drops – F + Neroli ($48) brought my skin back to normal after about a week.  I started using the Penta Peel as directed and it gave me my back glow back.
Bottom Line:  DCL Multi Action Penta Peel will gradually brighten skin giving you a nice healthy glow.  My very stern advice is that you use as directed or risk drying out your skin. Be sure to use a sunscreen with SPF 30 everyday, especially while using this product.