If you're a beauty lover and you've never been to the Bergdorf Goodman Beauty Level, you need to change that posthaste. On May 1st, Bergdorf Goodman partners with ELLE Magazine for an epic day of beauty and you, yes YOU are invited.  The list of complimentary makeovers, beauty consultations and product testing that will be available during the event is enough to make any beauty gal or guy faint with excitement.
Don't believe me? Here's the list of all the services that will be provided at the May 1st event:
Green Tea Leaf Reading with Amore Pacific
Facebook Look Transformation Station with Biobliss
Customized palettes by Bobbi Brown Artist Brianna Tallos
Sublimage consultation with Chanel
Mask Event with Cle de Peau & Shiseido
Hair Styling and Tutorials by the Designer with Colette Malouf
Manicures and Nail Art with Estee Lauder
Bronzing Bar Event with Guerlain's National Makeup Artist Marcus Monson
Complexion Perfection Makeover with Hourglass
Braid Bar with John Barrett Salon
Stress Releasing Massage with La Prairie Massage Therapist Edan Harari
Mini-facial pampering with Lancome
LED Light Chromo Mask Tool "Robo Cop Mask" with Natura Bisse
Scalp Treatments and deluxe gifts with purchase with Restorsea
Neck and Hand Massages with ReVive
Expert brow shaping with Sania's Brow Bar
Sultry Sun Kissed Makeovers with Tom Ford
Lash Application and Personal Appearance by Trish McEvoy
"The Light Belongs to YSL" – 3 Minute Lumiere with YSL Beaute Have you been to Bergdorfs Goodman's beautyBergdorf Goodman will partner with ELLE magazine for a very exciting day of beauty. All day long we will offer complimentary makeovers, beauty consultations and customers can try out the latest colors, treatments and more. And from 5:00pm – 7:00pm, I will do a personal appearance in store and chat spring beauty.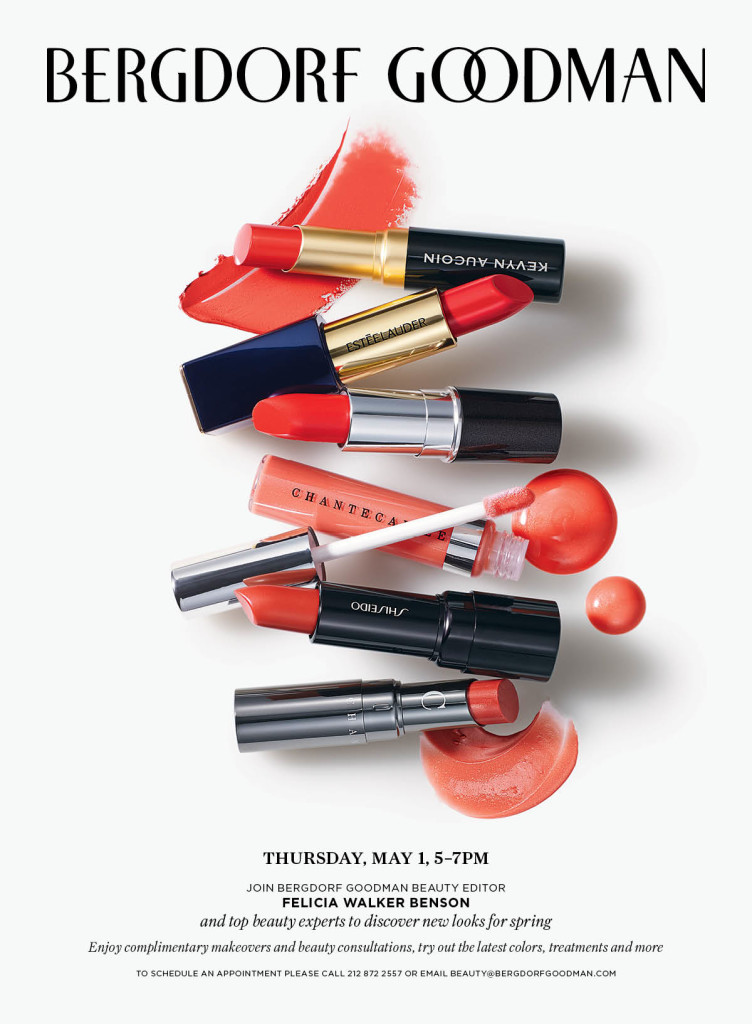 In addition to the services above, TTB's Editor-in-Chief, Bergdorf Goodman's  Beauty Director and one of my BBFs, Felicia Walker Benson, will make an in-store personal appearance to talk all things spring beauty.
Mark your calendars for May 1st, 2014 and call 212.872.2557 or email beauty@bergdorfgoodman.com to schedule an appointment.
Giveaway Alert!
Leave a comment below telling me what beauty item you splurge on and an I'll select a winner at random to receive a Bergdorf Goodman goody bag filled with items from Napoleon Perdis, Kate Somerville, Antica Farmicista, Piazza Sempione, Laura Mercier and Supersmile. Ends May 1, 2014 at midnight PST.
—
Find  @ChristeneCarr, on Twitter, Instagram, Tumblr, Pinterest, Facebook and her blog.
Disclosure:  This post is sponsored by Bergdorf Goodman.  All opinions are my own.