We all want to take excellent take care of our skin and hair, and while some of us have the luxury of being able to dedicate hours to facials and hair masks at the spa, the majority of us feel so strapped for time that we neglect taking good care of ourselves.  But guess what – you don't always need time! These products work while you sleep, so you can truly get some beauty rest.
SKIN
Amarte Overnight Express Therapy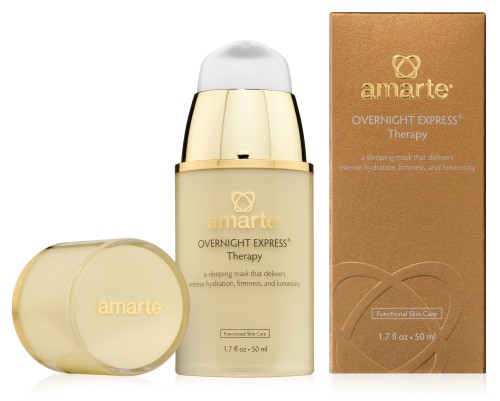 This retinol sleeping mask will leave your skin feeling ultra clean and firm when you rinse it in the morning.  Silk proteins and peptides help stimulate collagen production so it's an excellent addition to any anti-aging regimen. Apply to clean skin before bed. ($79 at Amarteskincare.com)
Arbonne Clear Future Soothing Overnight Mask
If your skin is red or irritated, this hydrating gel mask will calm it with soothing ingredients like calendula, sage and witch hazel. Just cleanse the skin, apply and allow to dry.  Rinse in the morning. ($34 at Arbonne.com)
REN Wake Wonderful Night-Time Facial
This mask can be used on cleansed skin or in between your regular serum and moisturizer. With a blend of alpha hydroxy, lactic and glycolic acids, you can really feel it working as it sloughs off dead surface cells and helps to smooth the texture of your skin.  Rinse when you wake. ($60 at Renskincare.com)
Julep Night Shift Sleeping Mask
Perfect for parched skin, this fragrant moisturizing mask will nourish skin and encourage cell turnover with stimulating ingredients like coffee, rosemary, grape water and a clinically proven peptide blend.  Apply to clean skin or layer over your serum and moisturizer. Rinse in the a.m. ($34 at QVC.com)
Phytomer Night Recharge Youth Enhancing Cream
Marine botanicals, nourishing oils and glycolic & lactic acids make this emollient cream a great choice for those with concerns about aging skin. You feel it working immediately after you apply and your skin will feel amazing in the morning! ($130.50 at Lesspausa.com).
Boscia Super-Charge Overnight Moisture
Ideal for normal to combination skin, this lightweight but potent hydrator contains soothing plant extracts like orange flower, willow herb and Spanish lavender. It smells fresh and absorbs quickly, perfect for those who don't like a residue on their skin before bed. 
($36 at Boscia.com)
HAIR
Keranique Intensive Overnight Hair Repair Serum
If you're experiencing hair loss or a slowdown in hair growth, this serum, which is with proteins and botanical extracts, can help stimulate the hair follicles more intensely than rinse-out treatments. Massage onto thinning areas before bed and style as you normally would in the morning. No need to rinse. ($48 at Keranique)    
Alterna Caviar Overnight Hair Rescue
Styling, chemical treatments and the even environment can do a number on your hair. This cocktail of caviar, algae and fruit and vegetable extracts works to undo all that while you sleep. Massage a quarter's worth into the hair and leave in while you sleep. Shampoo out in the morning.  ($35 at QVC.com)
Hair Pillow & Satin Pillow Case
Who knew that the right pillow could benefit your hair? This pillow's unique shape will allow for a comfortable nights' sleep while preserving your blowout or salon style. The addition of the satin pillowcase will help prevent the breakage that other fabrics cause (unbeknownst to the sleeper!).  ($65.00 & $24 at Lifestylepillows.com)
FEET
Woodsprite Organic Body Overnight Sensation Foot Butter
Get those feet back in sandal shape with this rich balm. The original formula, which contains tea tree and peppermint, will soften and refresh your feet, while the ginger & mustard version will keep your tootsies toasty while it softens.  For the best results, before bed, soak the feet in warm water, then apply the butter and cover with cotton socks. Sleep. ($14 at Woodspriteorganicbody.com)