If you are a beauty junkie, hoarder, fiend, lover or just a person who wears makeup, you need to check out ELF cosmetics.  ELF has great products at bargain basement prices.   While I now have access to some of the most luxurious makeup in the world, I  still buy and use ELF products because they are an amazing value and work really well for me.  ELF invited me to shop their New York Boutique  and I went a little nuts.  Below I have listed some great holiday value sets great for gifting,  as well as my ELF must-haves.
ELF Holiday Value Sets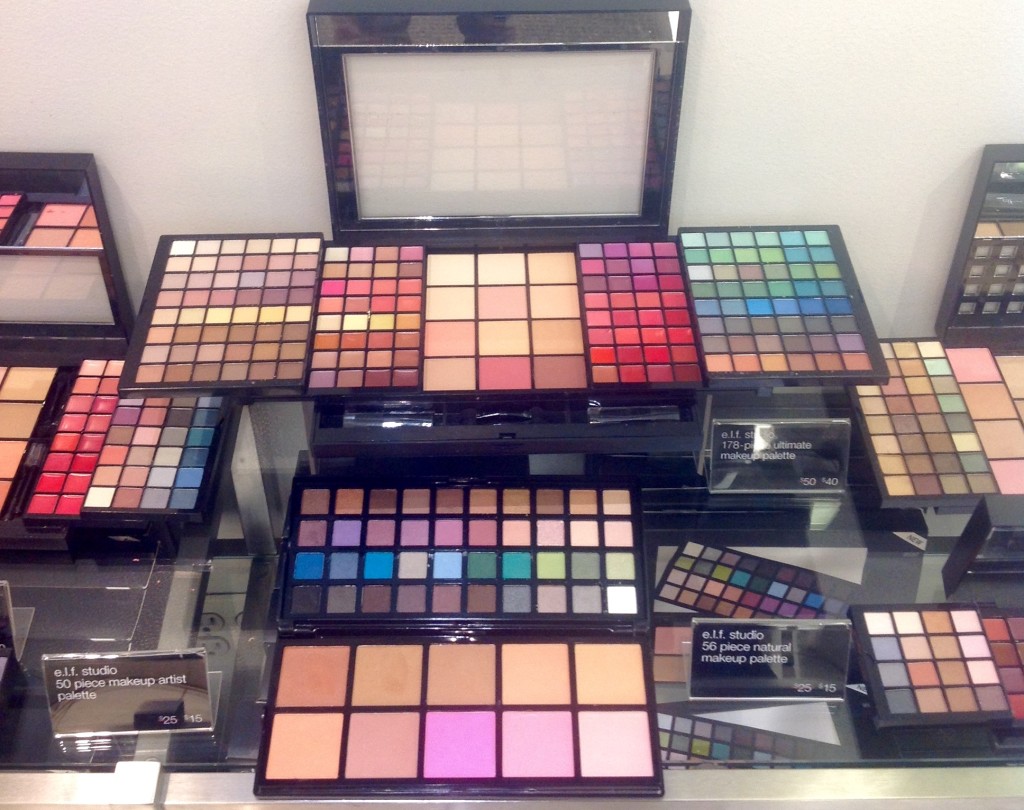 This collection features 40 eyeshadows ranging from light to dark shades including jewel tones, a set of 10 blushes, bronzers and highlighters, a mascara, liner and a shadow brush al for the rock bottom price of $15.
Features sheer coverage lip colors ranging in color from pinks, berries and coral.  Perfect for anyone just starting to experiment with lip color. $10
This has all the essential brushes for flawless makeup application. $12
An ultra portable compact that features: eyeshadow, blush, lip gloss, bronzer, eyeliner, brow  product and  applicators.  It's the perfect travel-sized makeup kit and a fantastic buy at only $15.00
My ELF Must-haves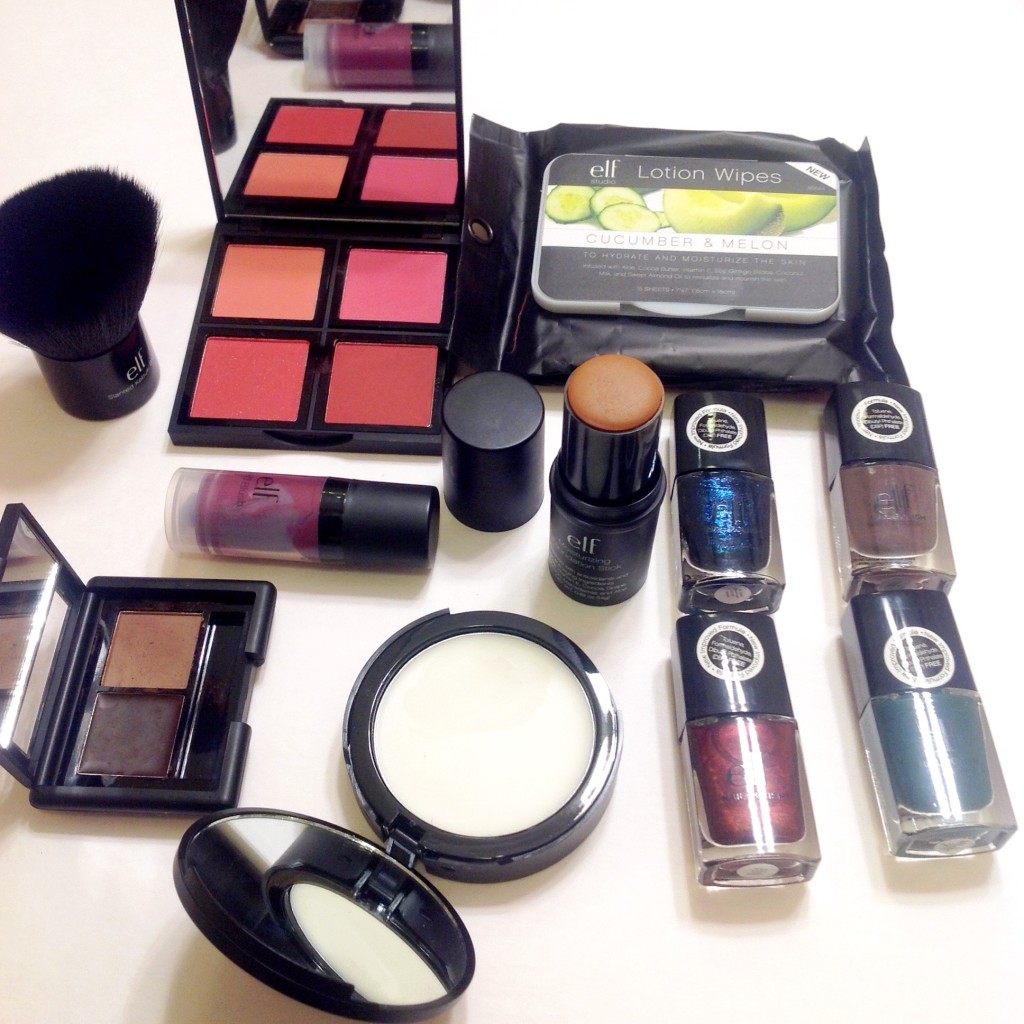 I honestly went a little nuts in the ELF studio…they probably regret inviting me.  ELF has so many amazing products that I just didn't know where to start. Needles to say I took all the things then went home and tried everything to find my favorites.  Everything listed below has been added to my in bathroom makeup station (or nail polish stash) and will  be in rotation over the next few months.
I had a hard time picking just a few favorites but I managed.  Green Machine, Smokey Brown, Meadow Mist, Garnet, Sea Escape are not to be missed. All ELF nail polishes are 3 Free and $2 each.
The palette has 4 blushes, 3 matte and one shimmer all with great pigment.  I use the dark shade but I could easily use the other shade for a less dramatic look. $6
These have a bit more moisture in them than other facial wipes I have used. They do a great job removing makeup or just giving the skin a bit of a freshening up. On light makeup days, one is enough but on heavy makeup days two is required. $3
I think this is a great winter foundation.  I have only worn it a couple of times and I really like it.  It goes on very smooth and provides great coverage. I wear the darkest shade, Coffee, but  it is available in several other shades. $6
I like this  more as a powder brush and it's included here because its retractable which makes it great for travel. It is made with synthetic fiber but its very soft.  $6
I want to use it even when I'm not wearing makeup (yeah, I know that makes me a little weird.) It can be used with wet or dry products but I like it to apply setting powder.  $6
If I do nothing else before leaving my house I almost always apply a brow product.  My brows are sparse and so it has been a requirement since my teenage years.  The ELF eyebrow kit has a gel to define the brow and a powder to set it.  The finished look is defined but still natural. I use the dark shade. $3
If you have oily skin, like I do,  or want a matte  look, I recommended taking this product for a spin.  It helps to reduce the appearance of pores by absorbing excess oil.  Wear it alone, under makeup or  gently dab  over makeup.  The result is a shine free face that lasts for hours. $6
The pigment on this blush is ridiculously ridiculous. I dab the tiniest amount on the back of my hand then swirl my blush brush in it then slowly build to the desired intensity. My shade of choice is Showstopper.  It can also be used on lips. $3
While this is marked as a lip liner it wears well all over the lip. I like the Wine shade — on me this color reads more like a muted wine shade or brick.  I apply a bit of lip balm then apply the lip pencil all over. $3
If you are still shopping for gifts for sisters, nieces, girlfriends, co-workers or any other woman/girl in your life, the ELF Cosmetics value sets are a bit of a no brainer.  Now, not that I am telling you how to spend your coins (yes I am) please buy all the products on my must-have list…it will set you back less than $50 — think of it as my gift to you.
Happy Holidays!
—
This post was written by Christene Carr. Find her on Twitter, Instagram, Tumblr, Pinterest and her personal blog.