Maybe I go a little overboard, but when it comes to protecting my precious little Phoebe from sunburn — I don't play. When she was an infant she was never without her trusty baby bonnet. Actually, she had an assortment of bonnets, thank you very much!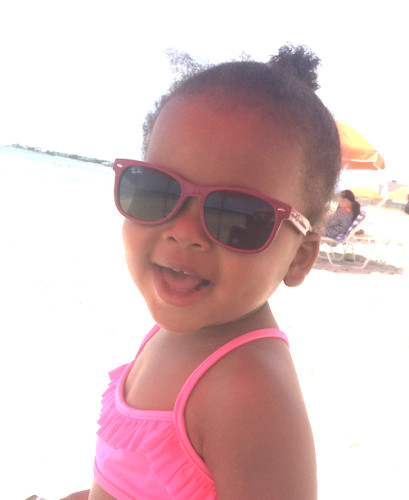 Now that Phoebe's a little older and not quite into the bonnet scene, I have to get creative in keeping her protected from the harmful rays of the sun. While I'll admit to being a bit overbearing when it comes to sun exposure, I do realize that part of being a kid is having a blast outside, running wild and soaking up a little Vitamin D. So here's how I keep Phoebe protected, without taking away from her fun:
LIMIT EXPOSURE: This is my first line of defense. I avoid keeping Phoebe out in the sun for prolonged periods of time. So for example, if there's an all day concert in the park, I'm probably not going to choose that sort of activity. The thought of being stuck in a park, with limited shade (all day) makes me a little bit nervous. Instead, I gravitate toward activities that limit exposure, yet maximize her fun. So of there's a 30 minute puppet show in the park, that's perfect…we'll spend maybe 30 minutes at the puppet show and 30 minutes running around. Then we cool down in the shade for a bit. I try to keep Phoebe's sun exposure to minimum by controlling where we go and for how long.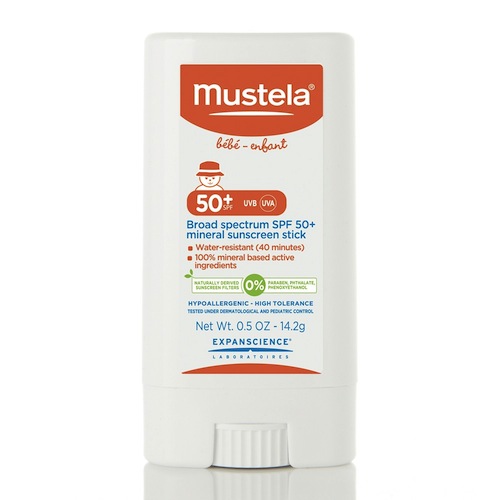 STAY READY SO YOU DON'T HAVE TO GET READY: Phoebe's diaper bag always includes a sun hat and sunscreen. This way, if we find ourselves in an improptu outdoors moment — we're ready! My favorite sunscreen for the diaper bag is Mustela SPF 50+ Broad Spectrum Mineral Sunscreen Stick. I love the portability of this stick. I actually keep one in Phoebe's bag and I keep one in my own purse (as a back up). It's really lightweight so I don't feel like I'm lugging a tube of sunscreen. But when we have PLANNED outdoor moments, I generally lather up with Mustela SPF 50+ Broad Spectrum Mineral Sunscreen Lotion before we head out. Both products provide 100% mineral based broad spectrum protection. And both are 100% suitable for face and body. Lastly, both formulas are also approved by the Melanoma International Foundation. Free of parabens, phthalate, phenoxyethanol, fragrance, and PABA, this hypoallergenic sunscreen is a great choice for little ones. [Try Mustela for yourself and save $5 with code TTB5. SHOP HERE]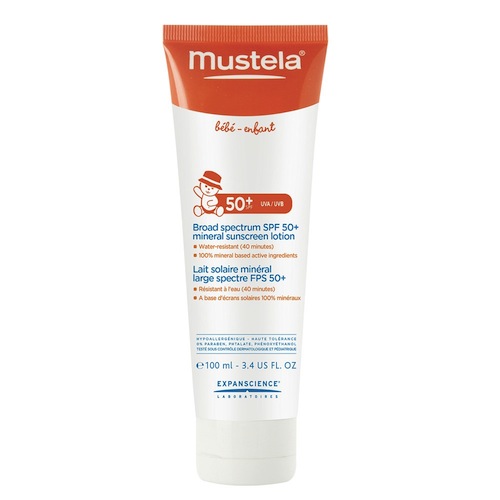 LOOSEN UP: I always dress Phoebe in loose layers when we're out in the sun for an extended period of time. Even if it's really warm, I still reach for lightweight long sleeve cotton top. Less exposed skin means less opportunity to burn.
These are my top three tips for keeping little ones safe all summer long. I'd love to hear your suggestions. Please comment below 🙂