When I first saw the Artis Makeup Brushes I immediately wanted to try them.  I honestly didn't care it they were made out of skunk tail —  the look of them was intriguing and as a devout beauty girl, my beauty card would lapse if my interest wasn't piqued.  I was happy to learn that the brushes weren't made from animal hair and that PR was sending me a couple to try out. Crisis averted.
The idea for the Artis Makeup Brush was "born from the realization that makeup brushes have never evolved from the watercolour paintbrushes they copy […] through inventing new methods, materials and designs, Artis enhances the application of cosmetic and makeup products."  The brushes bristles are made from CosmeFibre — a high tech animal-free material that allows for uniform and efficient product application. The fibers are consistent and have a smaller diameter than conventional hair and are proven to work even on sensitive skin. You may find more about the brush construction here.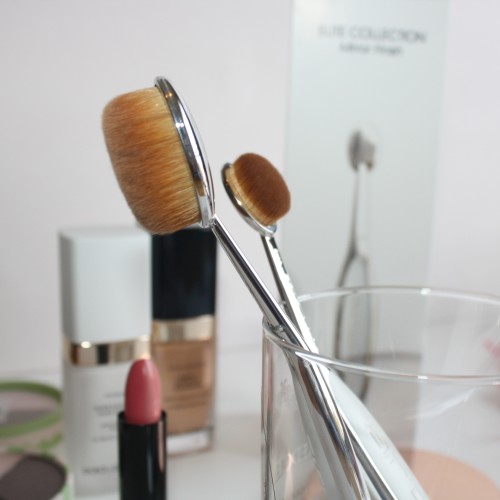 I was sent two brushes, the Oval 6 and the Oval 4. The Oval 6 ($42) is recommended to apply foundation, blush, bronzer among other things but I only used it for foundation. It took me a few minutes to get used to the shape of the brush because it felt like I was holding my toothbrush. Once  I adjusted to the shape of the brush,  it actually seemed more intuitive than the types of brushes I have been using for as long as I can remember. I used a  liquid foundation and from my observation I think I used a little less than I normally would. I think the design of the brush and the way it is held, helped to keep the product on the tip of the brush rather than have product gradually travel down the bristles into the base of the brush as it comes in contact with my skin.
The Oval 4 ($36), which is recommended for concealer, blush, contouring and more, also took some getting use to but again, once I got the hang of it, it worked really well. I love it for under eye application of concealer because I can get really close to the bottom lash line without it poking me — traditional concealer brushes are a bit pointy and not generally very soft. The Oval 4 allowed for almost flawless concealer application.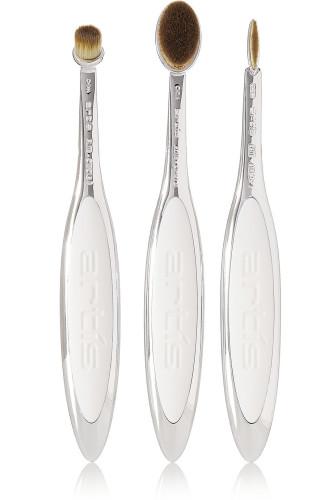 Overall, I loved Artis brushes and I think you will too, so, I am giving you a chance to win the Artis Mirror 3 Brush Set, a $75 value.
Follow the instructions in the widget below.
—
Giveaway/Contest Rules:
This contest is open to US residents 18 and older. If you have won a prize from ThisThatBeauty in the last six months you are not eligible to win. This prize cannot be redeemed for cash. Please do not contact the makers and manufacturers of the items being given away regarding this contest. While we do take every precaution to ensure packages are delivered to contest winners, we do not take any responsibility for items lost or stolen during the shipping process once we have confirmed shipment from our end.