Lately I'm a huge fan of "consolidated" beauty…meaning: beauty that's sort of all-in-one. It just makes like easier. So when I visited AJ Crimson's booth at the recent IMATS NY show, I just knew I'd be copping his AJ Crimson Artist Kit. I had already heard great things and wanted to see for myself. The 6 foundation palette spoke to my on-the-go SLASH stay-ready-so-you-don't-have-to-get-ready side. I love products that make it easy for me to 'Grab & Drag', meaning: I can grab them and do my drag in like 10 minutes.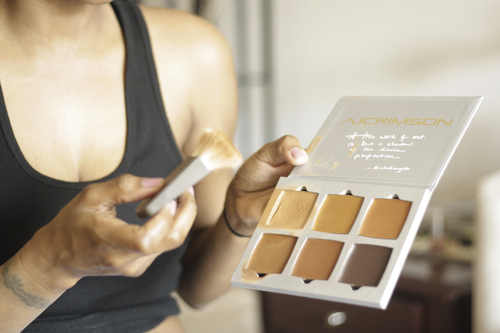 AJ Crimson Artist Kit
The refillable, 6-pan, cream foundation palette comes in two version: Fair – Tan and Warm – Deep. I purchased Warm – Deep. I've been wearing the palette since the day I purchased it. And here's the tea: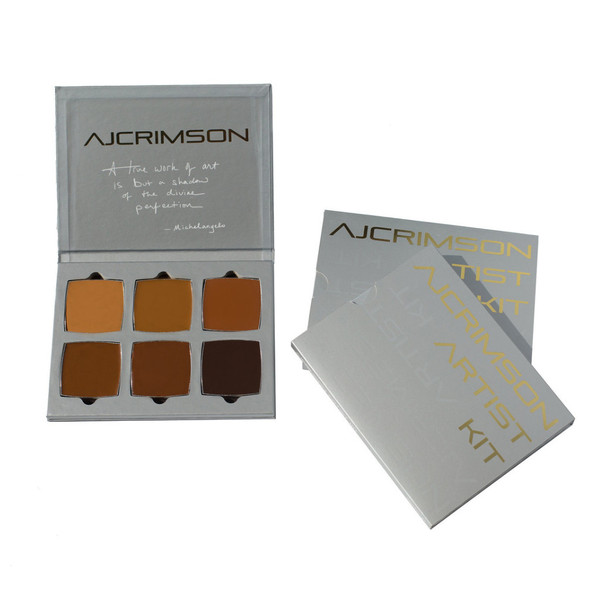 I love to formula. It wears well, provides superb coverage and the finish is super natural. Skin never looks masked or casket fresh. This a really good palette for, first and foremost, a makeup artist. All of your shades are right there. The formula works beautifully on camera and the coverage is so good that you don't need concealer to cover dark spots. This palette is also good for the girl who loves foundation and lives for a mega highlight and contour situation. With 6 shades, a girl is able to werq werq werq her base shade, highlight and contour with this one palette. There's just one caveat tho, you need to be darker than me. For my shade of brown, only 2 of the shades work for my daily life. The lightest shade is a good all over shade for me….and the next darkest shade makes for a great contouring shade for me. The other four shades — well, they just sit there lonely and unused.
BOTTON LINE: AJ Crimson Artist Palette works best for a makeup artist (duh, says 'Artist' right there in the name) or a woman about Gabrielle Union's shade or darker. If you fall into those categories, BUY THIS IMMEDIATELY. If you don't fall into those categories, consider buying AJ's cream foundation as a single pod, because the formula is incredible and deserves your undivided attention.