My introduction to Clinique came via their 3-Step Skin Care System.  It was the first skincare system I purchased from a department store. I remember I felt very accomplished when I made my first purchase…like I was doing something great for myself. If I am being honest, I felt like I had made an adult skincare decision.  I'm not alone in my love for Clinique's 3-Step System or am I alone in having it be my first "grown up" skin care purchase.  Over the last 40 years, many women  have had the same experience. However, it's the efficacy of the 3-Step System  that attracts new users and keep old ones coming back time and again. To take skin cleansing to the next level, Clinique just launched the Sonic System Purifying Cleansing Brush  that is designed to work with the 3-Step Skin Care System — one of the most effective skin care systems in the world.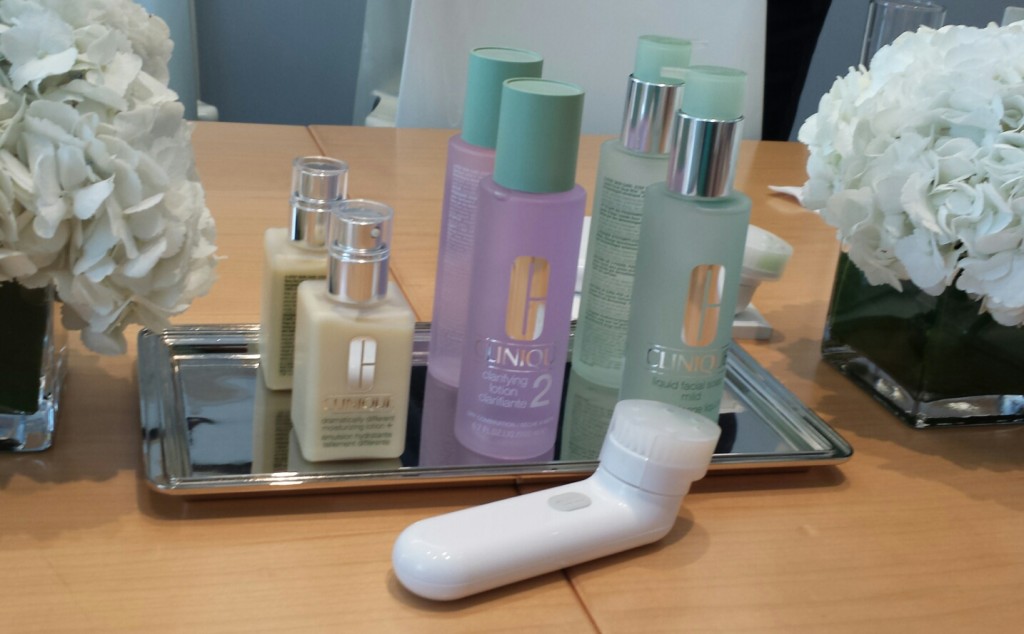 About Clinique Sonic System Purifying Cleansing Brush
Oval shaped angled brush head to target contour areas of the face including around the nose, hairline and chin

35,ooo tufted doomed tip bristles to remove dirt and other impurities/pollutants without scratching the skin

Two types of rounded bristles to deliver a custom cleansing experience. (Green bristles are shorter and firmer to clean the t-zone. White bristles are longer and softer to clean areas like the cheek.)

10,000 sonic movements per minute
Silver strand used as an antimicrobial in all bristles
Effectively removes PM 2.5 (pollutants/particles that are 2.5 microns in size.)

Easy grip ergonomic handle

Compact design makes it very portable

Waterproof

Self Timer automatically turns off after 30 seconds

Single charge has a 3 hour of battery life

2 year limited warranty
Consumer Studies on Women of All Skin Types
97% of users agreed the brush gently cleansed skin while thoroughly removing dirt, oil and impurities
96% agreed brush gently cleansed skin
94 % agreed the skin looked clearer and more radiant
80% of current brush users would purchase the Clinique Brush
I have been using the brush for about two weeks and can wholehearted confirm the first three claims above. I will do a more thorough review in another a few weeks.  Stay tuned!
Want the Clinique Sonic System Purifying Cleansing Brush right now?  It retails for $89.50 and is available online at Clinique.com right now. It will be available at Clinique counters nationwide August 15th, 2014.  It is recommended that the brush heads for the Clinique Sonic System Purifying Cleansing Brush be changed every three months. Brushes retail for $26.
–
This post was written by Christene Carr. Find her on Twitter, Instagram, Tumblr, Pinterest and her personal blog