The official start of summer is upon us. It seems like mere minutes ago we all had the collective shivers because winter just would not end. Summer brings much needed warmth but it also brings humidity that is sometimes stifling. Heat, humidity and makeup don't go well together, so, I'm on a quest to find all the products that are formulated to survive the dreaded summer heat and humidity. This week I'm trying the BECCA Ultimate Coverage Complexion Créme.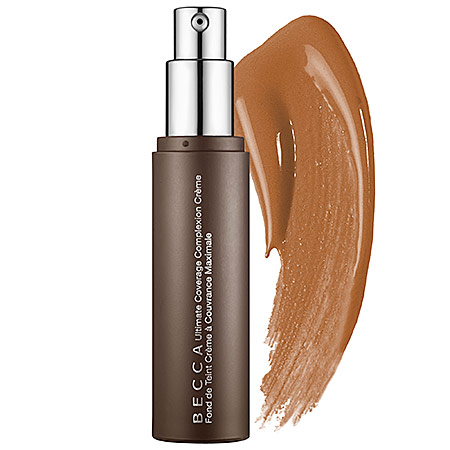 BECCA's new Ultimate Coverage Complexion Créme is full-coverage foundation that is made with high concentrations of pigment and water. More pigments means a little goes a long way and during hot summer months we want to use as little product as possible. According to BECCA, the foundation is clinically proven to provide 24 hour coverage that is water and transfer resistant.
I used two shades, Tobacco and Sienna. After moisturizing and adding sunscreen, I applied Tobacco to the inside areas of my face and Sienna on the outside. I can sometimes be a whole shade darker by the end of summer so starting off with two shades to mix and match as my complexion changes is never a bad thing. The Ultimate Coverage Complexion Créme is truly ultimate. Using a foundation brush, about a pea size amount was enough to cover the inside areas of my face. I then blended in about a half a pea size amount of Sienna to the outer areas. This was enough to give me full coverage and I have spots to cover. I set it with a translucent powder. It wore exceptionally well for more than 8 hours with minimal oil breakthrough, even on my oily skin.
I took the BECCA Ultimate Coverage Complexion Creme on a test drive to Florida and it held up equally well with just a bit more oil coming to the surface. I used blotting paper (and Starbucks napkins) to blot down excess oil and I was good to go.  While there was some transfer, it was minimal and is to be expected because of the oiliness of my skin. Overall, this is a solid foundation that can definitely be worn during the hot and humid summer months…and beyond.  It is available in 20 shades, from Porcelain to Cocoa and retails for $44.
What's your go-to foundation for summer?
–