The length of this winter has left me desperately reaching for anything that promises to evoke warm, long sun drenched days.  So, when I received a bottle of Irene Neuwirth for Barneys New York in it's blue and purple water-color box, my heart leapt. On first spritz I got even happier because the first whiff was of neroli, one of my all time favorite notes.
Though the fragrance starts off with an almost overwhelming neroli note, it flashes away in an instant revealing a fresh, balanced floral bouquet with notes of orange flower, jasmin sambac and rose. The dry down is warm and a bit seductive, with notes of coconut, vanilla and musk.  It gives me a bit of cool-evening-on-the-beach island vibe but I suspect that's because master perfumer, Ralf Schwieger, and accessory designer, Irene Neuwirth's inspiration for the fragrance came from "daydreams of California sun and sea. "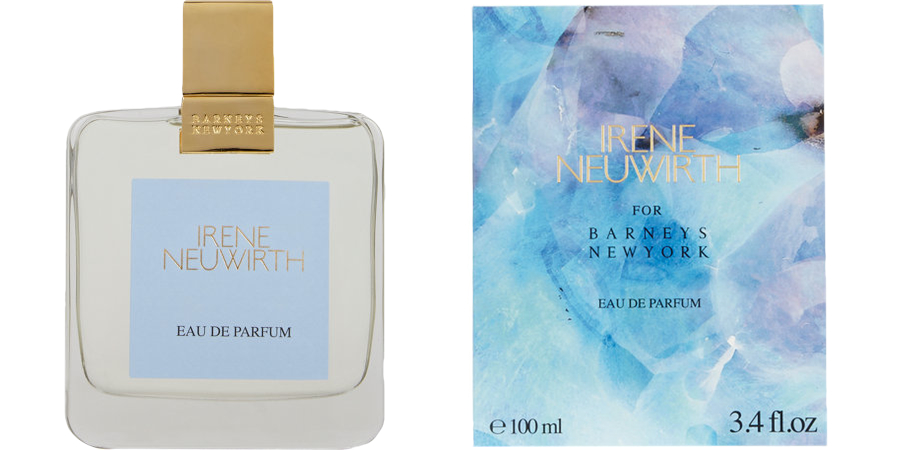 The fragrance is unique — it didn't remind me of any other fragrance I have ever used.  I've also noticed that it is just a little different with each use.  This might be based on my body's changing chemistry but the romantic side of me wants to say since it's inspired by the ever changing beach and ocean…any variation in scent is an intentional part of the overall fragrance experience.
This Irene Neuwirth fragrance is a Barneys exclusive and the third fragrance in their Designer Fragrance Collection. The first was L'Wren Scott followed by Greg Lauren.  All retail for $195.
Shop the Post:
–
Find Christene, @ChristeneCarr, on Twitter, Instagram, Tumblr, Pinterest, Facebook and her blog.