Today's Topic — Skin Care. If you're anything like me, your routine requires many steps. First I cleanse to remove the grossness of the day. Then I tone to balance my skin and rescue it from the rude, hardness of New Jersey water. Next I treat with a next-big-thing miracle serum of some sort (a girl loooves her miracle serums!!). Then there's a moisturizer. . . and if it's daytime, that moisturizer better include a broad spectrum SPF. Phew! So many steps, so little time. But if forced to narrow down my routine (and yes, new mommy-hood does force me to pare it down at times), I'd have to say that it is the "protect" step that's really critical. SPF, as I've said many times before, is my beauty non-negotiable. Even if you just splash your face with water and simply apply SPF, you're protecting your skin from hyperpigmentation, lines, wrinkles, and all sorts of pre-mature aging. But what if you could use one product to cover at least three of your skin care steps? Garnier Ultra-Lift Transformer Anti-Age Skin Corrector might offers such promise. . .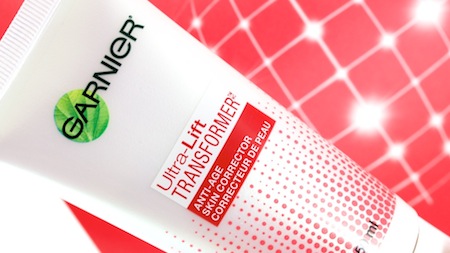 The do-it-all correcting treatment combines:
Argan Oil to moisturize
SPF 20 to protect
Pro Retinol to soften and de-age
Self-adjusting micro pigments to immediately relax the appearance of imperfections
So is Garnier Ultra-Lift Transformer Anti-Age Skin Corrector the multitasking skin care workhorse that you seek? Well, thanks to the Pro-Retinol formulation, with continued use, skin will absolutely see a reduction of texture and a softening of fine lines. Retinol is, in my opinion, the gold standard anti-aging ingredient for diminishing lines…but the key is continued use, so stick with it for at least eight weeks. With Garnier Ultra-Lift Transformer Anti-Age Skin Corrector your skin will immediately feel more hydrated and the SPF 20 offers a good level of protection…SPF 30 would be even better, but SPF is certainly sufficient (remember to re-apply every two hours if you're out in the sun). The self adjusting micro pigments, also provide immediate improvements…primarily for fair to medium skin tones…deeper complexions should note that a tiny bit of product goes a long way and you might want to layer a lightweight BB Cream on top. All in all, for fair to medium skin tones, Garnier Ultra-Lift Transformer Anti-Age Skin Corrector is a solid choice for getting your moisture, sun protection and anti-aging all in one smart little product.
Have you tried Garnier Ultra-Lift Transformer Anti-Age Skin Corrector? I'd love to hear your thoughts? Leave a comment below.