It seems there is a new beauty subscription box available every month. While the subscription model is not new, The Lacquer Cabinet by Nailtini, a nail polish subscription, adds a couple twists to keep it interesting:
Each limited edition collection features three full-sized polishes designed and curated by a "Guest Mixologist" (Could be a nail artist, blogger or tastemaker) 

You get  two empty mini bottles with brushes and mixing beads so you can create your own custom polishes.

 
I received The Lacquer Cabinet's debut collection which was  hand mixed by blogger, Faith Roxas, of loveroxie.com. The collection features three shades inspired by love and classic pink drinks.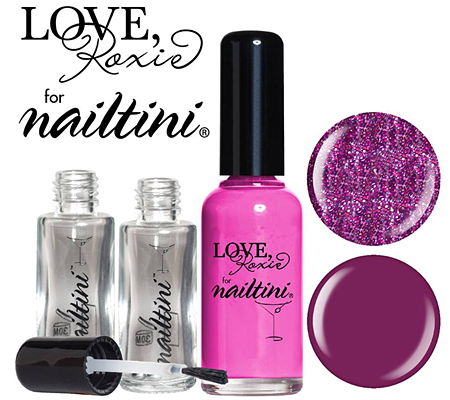 Pink Clover Club - flirty, creamy petal pink with a hint of heat

Valentini - sophisticated, plum-kissed berry cream

Head over Heels - sassy fuchsia jelly brimming with multi-colored, multi-shaped glitter
Here's What I Created Using  Polishes from The Lacquer Cabinet Collection by Love Roxie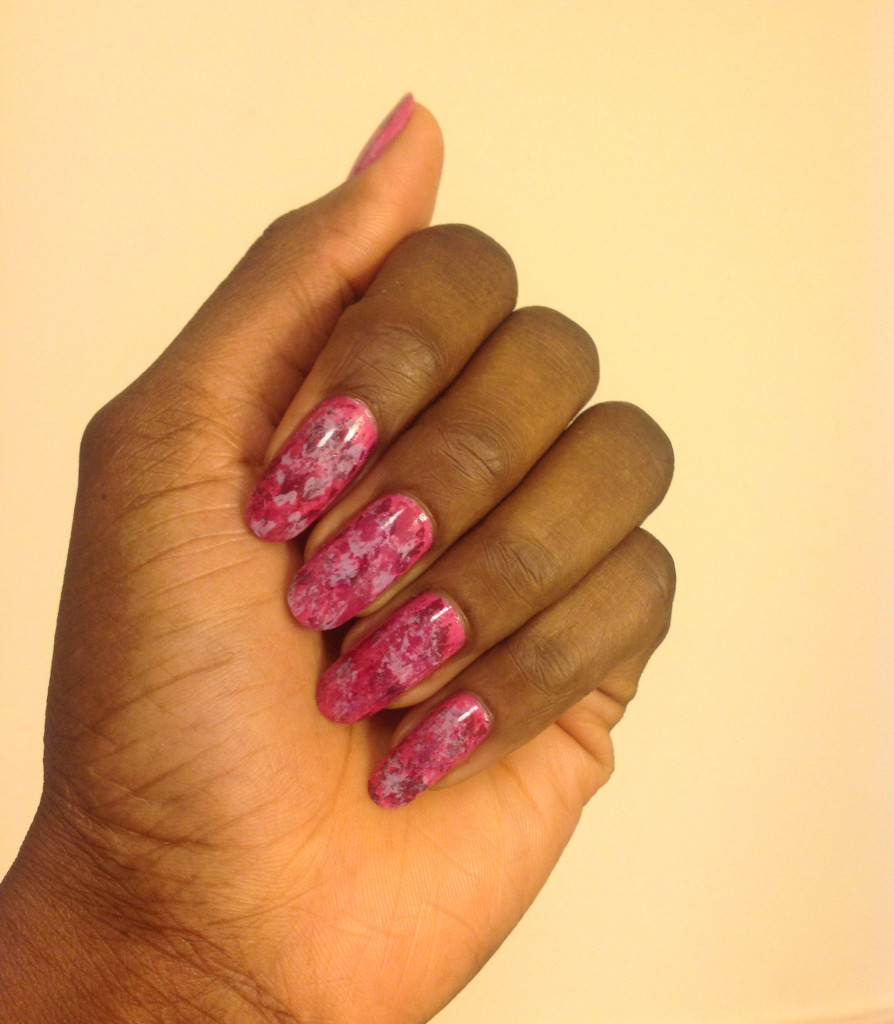 What you need:
Pink Clover Club
Valentini
Basic White Polish
Top Coat
Perforated sponge (I bought a huge block like this one at the dollar store and slice off a piece each time I need it.)
Nail File
Foil
Angled cuticle stick
Cotton
Nail Polish remover
How-to:
Clean and shape nails

Start with two coats of Pink Clover on each nail.  Allow it to dry.

On a piece of foil, mix two drops each of Pink Clover and Valentini and use perforated sponge to quickly sponge it unto all nails.
Add a couple drops of Valentini onto the foil and sponge it over all ten nails.
Add two drops of Pink Clover and two drops of basic white polish to the foil, mix it together and quickly sponge onto all 10 nails.

Follow immediate with your favorite top coat

Clean up cuticles, spritz with water and apply a cuticle oil.
The sponging technique is very easy and requires very little precision. The perforated sponge makes all the difference and it gives the finished manicure depth.
The Lacquer Cabinet by Nailtini cost $25 per month on a month-to-month basis, $23/month for a 6-month subscription, or $20/month for a 12-month subscription plus free shipping. Once you subscribe you also get up to 15% off all 'Tini Beauty products at www.tinibeauty.com.
–