Happy new year, girls! What better way to start a brand new chapter in your life than with a little glitter? I know I can't think of any… Now, I understand nail art can be a little intimidating, but this Glitter Gradient Tutorial is perfect for beginners and will take your mani from dull to dazzling!
One of the most frequently asked questions I get is how to do a glitter gradient. It has the 3 best things you could ask for. It's easy (but doesn't look easy), it's show-stopping AND it's fast! l'm talking less than an episode of the Real Housewives of Beverly Hills, fast!
What you'll need:
Tutorial: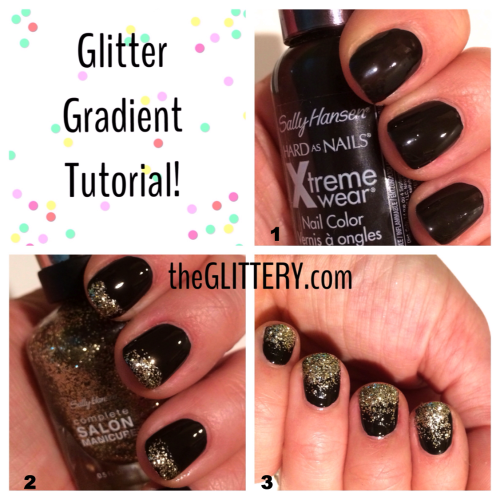 STEP 1: apply 1 coat of your base coat. Then apply 2 coats of Sally Hansen Xtreme Wear, Black Out and let dry (tip: use a quick dry top coat, like Seche Vite, to help the polish dry faster. This will also create a nice, smooth surface to put your glitter on).
STEP 2: paint a small blob/line of glitter (Sally Hansen Complete Salon Manicure, Golden Rule) on the tip of your nail. Use the tip shape as guidance. It doesn't have to be perfect, it won't be staying there!
STEP 3: using either the nail polish brush or an old eye liner brush, "pull" the glitter half way down your nail (you're essentially thinning out the glitter). Continue to do this until you have the desired effect- add more polish/remove some, etc. The point is to have more glitter at the tip of your nail than in the center (hence creating the cascading/gradient effect. As always, wait a few minutes before sealing with your masterpiece with your top coat!
I recommend doing 1 nail at a time. If you don't, the "blob/line" on step 2 may dry by the time you get back to that nail and you won't get the same effect. Also, if you want to get real fancy and do a reverse glitter gradient, do the same thing- just have the most glitter by your cuticle versus the tip of your nail!
I hope 2014 is your best (nail) year yet! Be sure to check out theGLITTERY.com and follow @theGLITTERYblog on Instagram for all nails all the time! And don't forget to tag me so I can see your glittery creations!