What's your source of inspiration? No, seriously…real question.
Sometimes we're inspired by people — like that tell-it-like-it-is auntie who always delivers THE best snappy comebacks at Thanksgiving dinner…and you think, "ahh, to have that sort of confidence". Sometimes we're inspired by places — like a recent mood-elevating vacation that made you reevaluate life and promise to slow down your rat race pace. And sometimes we're inspired my things — like a new red lipstick or a pair of sky high heels that make a girl feel invincible.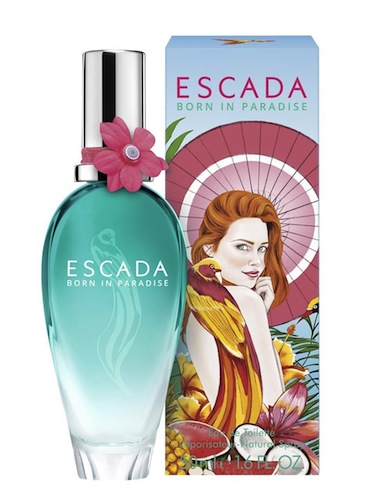 When I step outside and polar vortex temperatures blanket my body from head-to-toe, I can't help but seek inspiration (and frankly – motivation) to go on. I long to feel inspired and have my faith in warmer weather renewed. Will Summer ever reappear? Sparing the dramatics, truthfully, Summer will indeed return…but not for several months. So until then, there's ESCADA Born In Paradise — otherwise known as, 'hope in a bottle' (no, not that kind of bottle…that's a whole other blog post-slash-a whole other hashtag, #TTBwine on Instagram).
Inspired by the Pina Colado cocktail, ESCADA Born In Paradise, gives us hope. With a bright array of tropical fruit, warmed over with notes of sandalwood and cedarwood, ESCADA Born In Paradise delights without overwhelming. Typically, summer scents have a way of coming on way too strong in the fruit and flower department. . . but this limited edition scent (ESCADA's 22nd launch) is an enchanting blend of pineapple, coconut, watermelon, green apple and guava, punctuated with musky undertones that give the juice an air of sophistication. It feels more refined and a bit more grown up than most traditional warm weather fragrances.
If you follow my fragrance escapades on Instagram (#TTBscentdujour), you know that I typically favor warm, woody, almost masculine scents. So falling hard for ESCADA Born In Paradise was a bit of a shocker for me.
But upon more mature reflection, the attraction is quite obvious — while ESCADA Born In Paradise clearly speaks to fun, sun, and summer frivolity, it also has a very woody and creamy character that introduces depth and complexity.
When it comes to fragrance, I'm a bit of an opposites girl. For example, I'm super girly, but I adore the hunky feel of manly scents. In Summer, I wear rich ouds…so naturally, with polar vortex temperatures outdoors, I'm inclined to favor a scent that inspires glistening beaches, tranquil waters and a teeny weeny turquoise bikini.
Maybe it's the idea of the new year and new beginnings, but ESCADA Born in Paradise appeals to my softer side and my desire to look to the simpler things in life for inspiration….like family, dear friends, a hearty meal, or a delectable new scent.
If you find yourself in search of inspiration. . . yearning for simple pleasures. . . longing for the laid back, carefree days of Summer — give ESCADA Born in Paradise a try. Next stop, a cozy tropical respite. No passport required!
Available at Macys and Ulta.