I always have mixed feelings about skincare or beauty products that have "big" names — names that promise the world in results, but may not deliver on their word.  However, when a product lives up to the extravagant title, I feel such a sense of accomplishment, as if I am somehow responsible for the stellar results.  I know, I know – a little dose of humble pie wouldn't hurt, right? My personal self esteem matters aside, I recently had an aforementioned experience after trying the L'Occitane Divine Collection Skincare line.  The name alone drove up the hype for me, but thankfully the experience and results truly made me feel it was worth it.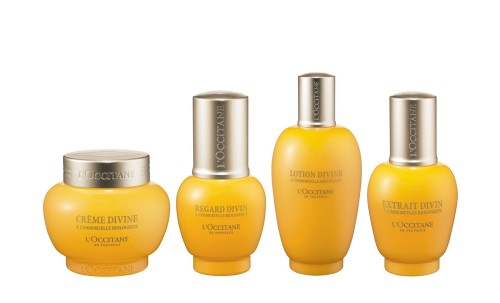 The L'Occitane Divine collection is comprised of 4 products – a toning lotion, an eye cream, an extract and a luxe cream, and is formulated with 7 plant-derived active ingredients that are designed to give skin a youthful and radiant glow.  The primary ingredient is the immortelle flower, which has unique anti-aging properties and gives this collection its swoon-worthy results.  Though the line is quite decadent and luxe, the products themselves are surprisingly lightweight and work well with my oily skin.
My two favorite products from the L'Occitane Divine Collection are the Divine Lotion and the Divine Cream.  I initially was thrown off by the "lotion" name (yes, even beauty gals mix it up once in a while), and thought this may be a lighter version of the cream.  But instead, I was pleasantly surprised to see this was a toner – and we all know how I feel about toners (pssst…if you don't know, I LIVE for toners), so naturally I was excited to try.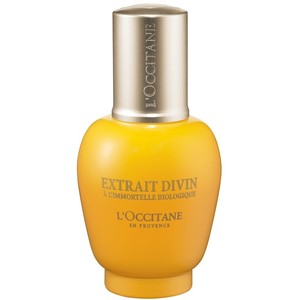 The Toner has milky texture which I appreciate since most toners are often clear,  It made my skin feel hydrated and smooth immediately after cleansing, when my skin can occasionally feel a bit tight.  I finished my nightly routine with the Divine Cream, and 'Divine' it was – in richness, scent and feel.  With a texture that felt decadent, nourishing as well as lightweight, my skin absorbed it immediately, and felt unbelievably soft the next morning.  Wait, correct that.  Unbelievably DIVINE.
All products are now available on usa.loccitane.com and range from $54-$116.