TTBFaves: Every month, the ThisThatBeauty Girls (Christene, Maree, and Felicia) share their favorite products from the previous month. Today I share my top picks from July.
 
Trader Joe's Coconut Oil
It seems my natural hair is running my life. I have finally figured out a routine that gets my hair styled in 30 minutes or less, that is after it is already clean and dry. This abbreviated styling time is attributed mostly to the use of Trader Joe's Coconut Oil on my hair pre and post wash. To get a better understanding of coconut oil, click here and here. I do an overnight pre shampoo treatment with Trader Joe's organic coconut oil once or twice per month. After washing and conditioning I add a small amount of coconut oil to damp hair and I also add a heat protectant and leave-in-conditioner before blow drying. This process leaves my hair soft and easy to manage. I can then style in braids/cornrows, ponytails/top knots and various updos.
Who It Might Work for and Why: According to the hair charts my hair is type 4b and 4c, if you have this type of hair you should most definitely try coconut oil [immediately, if not sooner

] This will also work for anyone with dry, kinky, curly coily hair.
Bottom Line: Just get it. If you try it and don't like it, use the rest of the jar to fry shrimp. (Pure deliciousness!)
TTBTip: Coconut oil will clog pores so avoid putting it directly on your scalp.
Price: $5.99
PCA Cream Cleanser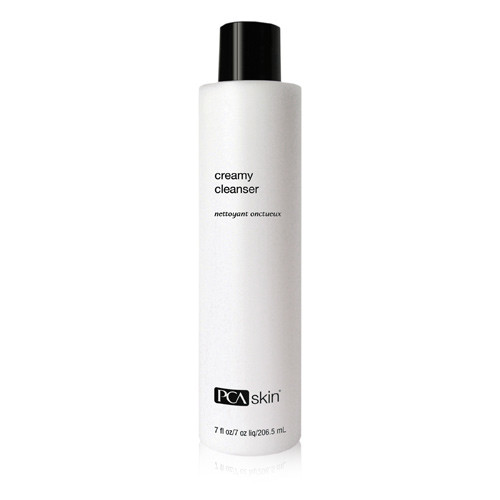 PCA Cream Cleanser  is gentle and can be used twice daily.   It contains a rosehip oil and aloe to soothe, moisturize and firm skin, sunflower seed oil that is rich in omega 6 fatty acids (a natural antioxidant) and yucca extract, which acts as a gentle cleansing agent. It is perfect for use with my Clarisonic and delivers a really good clean, provided I remove my makeup before starting the cleansing process. My skin is combination oily and it works great to balance my skin without leaving it feeling stripped of moisture.
Who It Might Work for and Why: If you have normal, or combination skin this cleanser should work for you.  I would not recommend for sensitive skin because of all the active ingredients and also because the manufacturer did not specify it was tested on sensitive skin.
Bottom Line: This is an effective cleanser for normal to combination skin.  It will clean the skin but won't leave it feeling dry.  With continued use skin will feel softer and look more refreshed.
Price: $27.00
Secret Clinical Strength Deodorant – Stress Response
Secret Clinical Strength Deodorant is a regular summertime favorite, the stress response ensures that all my bases are covered. As temperatures rise my sweat levels rival that of an over active NFL linebacker. This is especially out of control if I'm working out or running around New York City. With excessive sweating, especially stress sweat, comes body odor — which absolutely no one has time for. Secret Clinical Strength Deodorant helps me to keep the sweat and body odor under control. Click here to learn more about Secret Clinical Strength Deodorant.
Who It Might Work for and Why: Anyone with armpits. Best to be safe than sorry.
Bottom Line: Unless you have been diagnosed with a sever case of hyperhidrosis (a ridiculous amount of sweating) this should work for you.
TTBTip: If you sweat excessively and have a problem with body odor, use baking soda to exfoliate your armpits at night and apply your deodorant before going to bed.
Price: $7.99
What are some of your favorite products right now?
–