I'm certain you're familiar with the old saying: "save the best for last". Well, that's sort of the case with my write up of my Orlane Paris experience. While recently in Paris on a little Parisian Beauty Tour, I had the pleasure of not only experiencing a facial treatment at the Maison de la Beauté Orlane, but I also had the opportunity to meet with the Orlane senior team, go behind the scenes and truly get to know the brand.
As my faithful followers know, I truly pride myself on honest skin care reviews based on my personal experience with incorporating products in my daily real life. So back to my earlier statement about "saving the best for last"…After leaving Paris, the lovely team at Orlane was kind enough to send me off with several of their most popular products.
Before writing about my the product experience, I always feel compelled to dedicate the recommenced about of time before sharing my thoughts. With Orlane, I absolutely wanted to make sure I spent the appropriate amount of time using the products before sharing my thoughts. The price tag is definitely a luxe investment, so again, I needed to give the products my undivided attention for at least 8-10 weeks. And in this case, my time investment really paid off — I saved the best for last!
But first a little background — Orlane is a family owned group, with a strong botanical tradition enhanced with pharmaceutical grade formulations. Truly a haute Parisian beauty brand, Orlane offers prestige, anti aging products for the high demanding skincare needs of extremely discerning customers. The brand's three pillars are: Anti-aging, Prestige and Institute.
During my visit I learned that Orlane was the first brand to use fresh royal jelly, an ingredient well known for its anti-aging properties. Creme Royale, Orlane's hero face cream contains fresh royal jelly and 24k gold to help regulate melanin. When I learned that Creme Royale is known for its restorative properties and ability to "bring your skin back to life", well — I just HAD to try it.
I must admit, overall, my skin is in pretty good shape…I mean, I'm ThisThatBeauty — I know things;) However, over the last year or so, I have started noticing a creeping smile line that seems to intensify with age. And since I clearly do not intend to stop smiling, this pesky little developing smile line has been my litmus test for product trials. Given Creme Royale's active antioxidant formulation and skin-building properties, I was really hopeful that I would see some improvement in my smile line.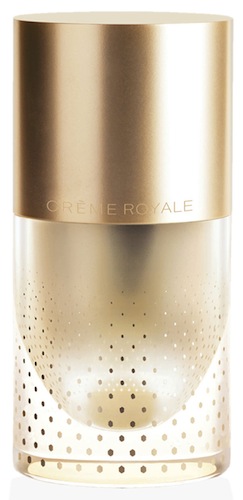 It's been over 10 weeks of testing Orlane Creme Royale and I absolutely see improvement in my smile line. On the right side, the line is not as deep…and on the left side, my smile line is practically gone. When I wear foundation, after a few minutes I would start to notice the settling of foundation into my little smile line. After 10 weeks with Orlane Creme Royale, I don't get the settling of foundation anymore…because my smile is is significantly re-plumped.
Part of why I keep saying that I "saved the best for last" is because it took weeks of staying committed to Orlane Creme Royale to actually see results. The product (and the price tag) is a commitment. While the cream is proving to be completely effective at addressing my number one pre-mature aging concern, it doesn't work overnight…and that's O.K….you just need to stay the course. It's worth it.
My plan is to continue using Orlane Creme Royale until I reach the end of the jar. Then, the real decision making happens. Do I make the investment and purchase another jar? Well, I have to tell you, while Orlane Creme Royale is quite quite expensive, it's still way less than Botox or fillers. And I have always said — I will avoid the needle for as long as humanly possible. As a card carrying Beauty Girl, I pride myself on seeking out needle-less options to maintaining my youthful appearance. So when you look at the cost of Orlane Creme Royale from that point of view, it's actually quite affordable.
In a nutshell, does Orlane Creme Royale work? Absolutely yes! Is it work the luxe price tag? Well, that depends on where you are in your anti-aging skincare routine. Are you *this* close to considering the needle? Do your developing lines and creases drive you bananas? If the answer is yes, then Orlane Creme Royale isn't as pricey as you think. Because let's face it — what's good skin really worth? I think we all know the answer to that questions. It's priceless!
***
Read all about my Beauty Tour of Paris. Learn about my life changing hair experience with Leonor Greyl Paris. Discover Patyka, a lovely French organic skin care line. Read up on Talika, a solutions oriented, high performing line of products for face and body.
For an intimate look  into my world and my time in Paris, peruse my Instagram feed, and search using #TTBinParis
Follow my Paris videos on Vine (@ThisThatBeauty)