Over the last year or so I have come to really like beauty gadgets. I recently received the Spa Sonic Skincare Skincare System and was very excited to give it a whirl.
-
-
-
Spa Sonic Specifications
Small facial brush: cleanses your face by getting deep into pores
Large body brush: cleanses entire body deeper than loofah and body sponges
Facial buffer: aids in moisturizer absorption and

microdermabrasion

to reduce fine lines and dark spots
Pumice stone: can smooth out rough areas such as elbows, knees and heels
Exfoliates,

smooths

and softens skin
Recommended by dermatologists
Can be used with your favorite cleansers
Tightens and reduces size of pores
Supports the reduction of fine lines and dark spots
Eliminates dirt, makeup and oil
Safe and effective for all skin types
Long lasting AA battery four pack – no need to charge
Includes:
1 Body polishing unit
2 Small facial brushes
1 Large body brush
1 Facial buffer
1 Pumice stone
1 Battery four pack
My first experience with a facial cleansing brush was the Clarisonic Mia; I have since graduated to the Clarisonic Plus. Since the manufacture of the Spa Sonic said "Compare to the leading skincare system," right on the packaging, I thought "Okay, let's do it."
Spa Sonic vs

Clarisonic
The Spa Sonic  Skincare Brush cleans better with any cleanser than with just the cleanser alone. I found the best way for me to get good results from Spa Sonic system is to use it for no more than one minute each time I use it. Unlike the Clarisonic Plus, the Spa Sonic doesn't have beeps and pauses to indicate when you should stop cleaning an area, so, I have to time it myself. The Clarisonic Plus has beeps and a brief pause to indicate when various areas of the skin are clean. 
For me, using either the Clarisonic or the Spa Sonic more than once per day causes skin irritation. I  use the Spa Sonic 4-5 days per week but only use the Clarisonic about 2-3 times per week .   Another key to having Spa Sonic work for me is to let it skim the skin. At first I held it with the same amount of pressure with which I use the Clarisonic but that led to too much pulling of the skin, it felt almost as though it was trying to pierce a hole in my skin. The Clarisonic doesn't pull on the skin, no matter how much pressure is applied. According to the manufacturer of Spa Sonic, the brush can rotate up to 380 RPMs. Unlike the Carisonic, the RPMs are significantly reduced the more pressure you apply to brush. The Clarisonic features patented sonic frequency of more than 300 movements per second.
The Spa Sonic uses 4 AA batteries that do not requiring charging but will require changing at some point. The Clarisonic has a charging dock that  keeps the device charged for 30+ uses without needing to  be recharged. Both devices are water resistant and can be used in the shower. The Spa Sonic system retails for about $65 and replacement  facial brush heads cost about $10 for a package of two and the body brush cost $12 for a package of two. The Clarisonic Plus retails for $225 with brush heads costing $25 each.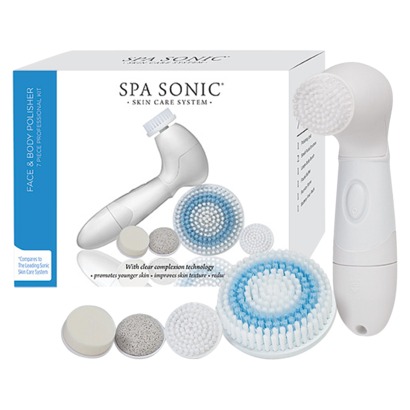 Bottom Line on Spa Sonic Skincare System
The Spa Sonic definitely cleans better than just using a cleanser alone.  With regular use of the Spa Sonic the skin does appear smoother with less visible pores. I like to use the Spa Sonic with a mild basic cream cleanser. The body brush attachment is great to use with a physical exfoliator on legs prior to shaving. The pumice attachment does a fair job of smoothing the heal and bottoms of the feet. I did not like the facial buffer attachment because it pulled the skin more than the brush and I didn't notice a difference in my skin after using it. Changing brush heads every three months and keeping them clean is also imperative to ensuring skin isn't irritated.  Retail $65 on sale now for $49!
Have you tried any Sonic Skincare brushes?  
What were your results?
–
For more of my randomness, find me, Christene Carr, on Twitter, Instagram, Tumblr, Pinterest and my blog .