There is no shortage of eye catching jewelry on the market right now. However, sometimes buying that on-trend piece of costume jewelry can lead to buyer's remorse because you only wear it two or three times before the color changes, the clasp breaks or stones fall out (Yes, this has happened to me.) Fear not, I recently came across GLITTERRINGS, a manufacturer of on-trend necklaces, rings, bracelets and earrings. The GLITTERRINGS brands includes: GLITTERRINGS Collection, the Jill Zarin Jewelry Collection, Debbie Merle Designs, and the Carolina Amato Jewelry Collection. The pieces in these collections are well made, affordable and can last for many seasons.
GLITTERRINGS Collection
I'm completely crushing on the rings from GLITTERRINGS Tribal Collection seen above.. The rings are chunky, sturdy and very eye catching. Retail $26 – $36.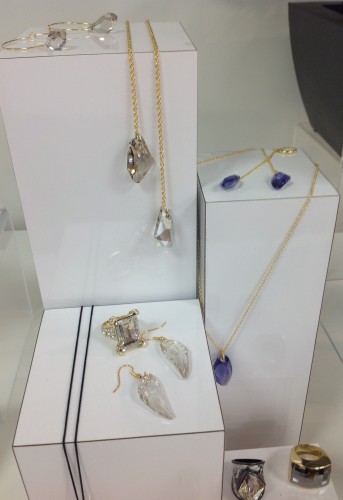 The GLITTERRINGS Rock Envy Collection features rings, necklaces and earrings with huge crystal settings. My favorite from this collection is the Rolo Chain Lariat ($110.00). This necklace doesn't have a clasp and has two crystal silver shade stones on each end of a 34 inch 14 karat gold chain. You can show your creativity by finding fun ways to wear this necklace. Pieces retail from $48 – $148 and can be found here.
Jill Zarin
Hamptons Collection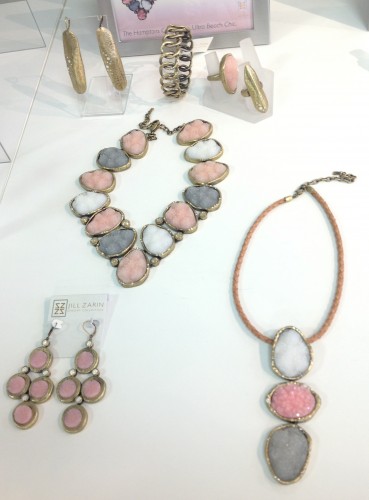 As the name suggests, this collection is inspired by the Hamptons. My favorite piece is the Shades of Glamour Necklace ($135.00.) It is big, bold and simple screams summer vacation. It has a lobster clasp, resin stone and Swarovski crystal elements. Pieces from the collection retail from $18 – $135 and can be found here or at Macy's.
Moraccan Collection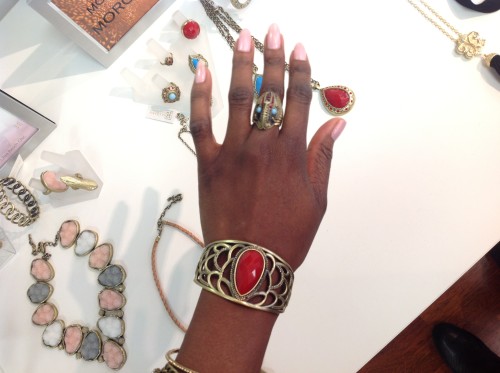 The Jill Zarin Morracan Collection, like all other Jill Zarin Collections, is inspired by the designer's travels. This collection has beautiful easy to wear pieces that are perfect for summer. Pieces retail from $40 to $78 and can be found here or at Macy's.
Debbie Merle Designs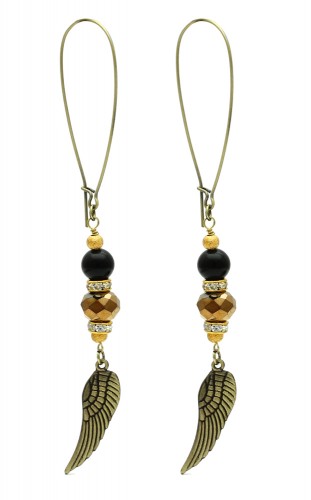 Debbie Merle uses a variety of beads and charms in her designs. The beads and charms signify "healing, protection, love, happiness and a passion for living life to the fullest." The earrings shown above, Wind Bead-Neath My Wings ($48) are right up my alley and are made of faceted jet crystal and faceted gold tone crystal stones with an oxidized brass finish metal. Pieces retail from $28 – $168 and they are available here.
Carolina Amato Jewelry Collection
Carolina Amato's designs have appeared in many leading fashion magazines and her line of impeccably designed fashion jewelry can be found in stores such as: Neiman Marcus, Anthropologie, Lord & Taylor and Saks Fifth Avenue. The Tassle Bib Necklace ($275) shown above is one of my favorite pieces from the line. Her collection contains many statement pieces that are as beautiful as they are unique. See the entire Carolina Amato collection here.
These on-trend collections make it easy to stay fashion forward and still afford your daily latte. Did anything from the GLITTERRINGS, Jill Zarin, Debbie Merle or Carolina Amato Jewelry collections catch your eye?
Leave a comment below or tweet us @ThisThatBeauty or me @ChristeneCarr.
–
For more of my randomness, find me, Christene Carr, on Twitter, Instagram, Tumblr, Pinterest and my blog.