Face Powder. Let's discuss!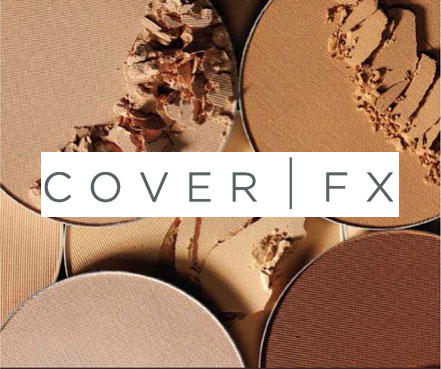 It is my observation that women have come to fear Face Powder. I mean…you say "Face Powder" and women instantly change their demeanor to reflect that of disdain. I'm not exactly sure when, but somehow, these oil absorbing beauty products have caught a bad rap. And for good reason. . . No one wants to look like a powder face. . . Face Powder, especially if formulated with talc, is notoriously unflattering in photos. . . And lastly, Face Powder is known to settle into fine lines, creases and dry patches, thus causing the instant aging of skin. Yikes!
And as a super oily girl with acne prone skin, I GET the power of Face Powder. It helps to control shine and regulate overly active sebaceous glands…but can a girl keep her mug slick-free AND not look like a powder face? You bet! And here's why I love the CoverFX range of Face Powder.
The complete collection of CoverFX Face Powder includes Blotting Powder (my go-to for at least five years now), Illuminating Setting Powder and Matte Setting Powder. The collection offers powder in two categories: pressed & loose.
CoverFX Blotting Powder is a pressed blotting powder that is used to control oil build up and minimize the appearance of shine. I was first introduced to CoverFX Blotting Powder years ago while on set filming a segment. My skin is uber oily, and the hot studio lights did nothing to help. Given my fear of powder, I was reluctant to use anything other than blotting papers to absorb the excess shine. But the makeup artist, a trusted industry pro, insisted that I allow him to use CoverFX Blotting Powder. I loved the finish and look on camera so much that I left the studio with the compact from the makeup artist's stash (with his permission, of course)…. I just had to have it. I have never seen a powder perform so well and read 100% undetectable on camera.
Over the years as I continue to reach for CoverFX Blotting Powder, the manner in which I use the product has evolved and I'd love to share my best CoverFX Blotting Powder tip with you:
For super oily skin like mine, use CoverFX Blotting Powder as a primer. Before foundation application, I buff it onto skin with a large buffer brush. I find that this not only sets a mattifying base, it also give my foundation more staying powder because the sheer layer of blotting powder gives my foundation more grip. I also find that I use considerably less foundation with this technique because the first layer of powder, though sheer, helps to minimize the appearance of minor discoloration.
It has to be said. Loose Powders are a thing of beauty….particularly CoverFX Loose Powders. They beautifully set both cream and liquid foundations, thus helping to extend the wear to last all day. The finely milled, talc free Loose Powders also prevent foundation from transferring onto your clothes…because we all know there's nothing un-sexier than foundation splotches at the neckline of your blouse.
Now I'm sure you're wondering: "But Felicia, which Loose Setting Powder is right for me?" Well, let's work through this. Both powders contain Vitamin E, C and Green Tea, which are excellent skin boosting antioxidants. For skin that's slightly oily to very oily (like mine!), the Matte Setting Powder (available in three shades) is the way to go. Conversely, if your skin is a bit drier and you want to help conceal the appearance of dryness and fine lines, choose the light reflecting formula of Illuminating Setting Powder (available in two shades). Both Loose Setting Powders are completely natural looking and leave skin totally flawless.
So level with me…do you have a fear of Face Powders? Have I helped quiet your fear? Leave a comment to share!