Imagine a place where you can mingle with the makeup industry's biggest players, play with and preview all the latest products from some of the most innovative brands all while learning invaluable tips and tricks from the world's best makeup artists. Sounds like a makeup lover's dream, right? Well lucky for all of us, the people behind The Makeup Show created a place where all of this actually exists – and is open to anyone who wants to attend! I recently had the opportunity to attend for the first time and wanted to share my experience and insight.
I attended The Makeup Show NYC but it is also held in Los Angeles, Chicago, Orlando and Berlin.  Held at the  Metropolitan Pavilion in New York, and most likely at large venues in the other participating cities, my first piece of advice is to arrive early. Between all the brands, brand representatives, artists, show goers and demonstrations – it is crowded, and the most popular brands such as NARS, Make Up For Ever, Kevin Aucoin and Inglot get incredibly busy (there is an actual line you must wait in to get up to the products.)  Once you arrive, grab a brochure and then let yourself wander through all the incredible brands.  Here is a peek at two of my favorite booths, Youngblood Cosmetics and Hakuhodo brushes:
As this show is geared towards industry professionals and makeup artists, most of the brands exhibiting are showcasing new and current products and tools for the working makeup artist.  That being said, there is still so much featured that is suitable for everyday use, so, even those who just simply love makeup (raises hand) can shop 'till they drop.
Though shopping is often everyone's favorite part of the show, there is also a huge opportunity to rub elbows, meet and chat with bloggers, makeup artists, brand representatives and industry experts and icons – so business cards are a must!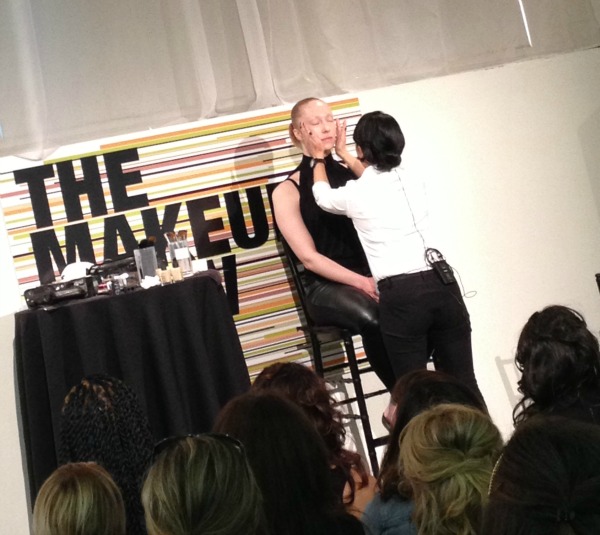 While I admit I am a product junkie and my first inclination is to spend all my time at the booths, playing with product – there are so many seminars during the show that it is imperative to manage your time wisely. Just as the products featured cater to both industry professionals and the average makeup lover, so do the seminars – with topics ranging from fundamentals of  "Learning how to control shine but keep the glow" and "Brushes 101″ to advanced techniques such as "Vintage 1920′s Beauty" and "The Art of Contour". There are also presentations such as "Building a Brand" and " Social Media and the Internet in the Beauty Business" that focus on the business side of the makeup industry.
Thinking about taking that "love" (read obsession) for makeup to the next level with makeup artistry?  This is the place to get a wealth of knowledge from the best in the business.  There are topics on theatrical makeup, runway makeup, bridal makeup and more – to help narrow down which field may be the most appealing and fit with your own specific talents and interests.
But my heart still always lies with the products…….

For more details and information on purchasing tickets to future shows, visit The Makeup Show website.