Admittedly, I tend to neglect the skin south of my neck for most of winter – as it is covered up under tons of layers, tights, coats, etc.  Then we get a warm day in NYC and I am forced to show my skin in order to avoid unnecessary heat exhaustion!  So, I need a regimen that will get my skin in gear fast – if not overnight.  Enter the Caudalie Divine Body Oil collection - AKA my summer skin savior.  I had the opportunity to visit the Caudalie boutique recently to experience the line, and the demonstration I received in store was simply amazing, so I knew my skin was in for something great.
Caudalie Divine Scrub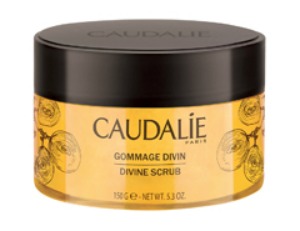 The first product I used from of the collection was the Divine Scrub, which was frankly – quite divine.  I have always been a fan of sugar scrubs over salt scrubs as the healing properties and benefits of sugar far outweigh those of salt, so, I was thrilled to know that the formula for this scrub consisted of brown sugar and various natural oils.  The texture of the scrub is dense making it very easy to use without the dreaded fear of excess product getting everywhere in the tub and causing a possible slipping hazard, (experience talking here!)
Caudalie Divine Oil
Once I finished my shower and exfoliation, I used the Divine Oil while my skin was still damp thinking it might need a few minutes to absorb.  To my surprise, the oil absorbed almost immediately into my skin and felt instantly dry – it was quite remarkable.  It left my skin hydrated and nourished without the residual greasiness or tackiness I have experienced with other dry oils.  Suitable for use on the face and in the hair as well, this is truly a perfect multi use product that will help nourish the body from head to toe.
Caudalie Divine Legs Body Bronzer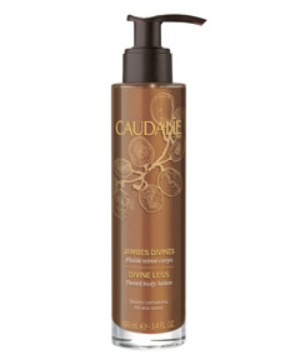 The final step in my winter to spring skin transformation was the application of the Divine Legs body bronzer.  Never one for these sort of products, as most of them rub off easily or streak in the most unappealing way, I was a tad hesitant to apply.  But with the amazing results I achieved from using the scrub and dry oil, I felt it was imperative I give this a go.  The color in the bottle is quite dark so I used just a small amount, and while it was slightly difficult at first to spread around, it quickly evened out and was simply beautiful.  I wore it all day and found little to no transfer onto my clothing – and it gave me just a modest bronzy glow that allowed those around me to avoid needing sunglasses just to look at my pale limbs!  For those of you gals with a medium to dark skin tone, this can really be an amazing enhancer after the beach or to prolong a vacation tan.
The entire Divine body collection retails from $38.00 to $49.00 and can be found at Sephora or Caudalie's website.