Research shows that the number one face care concern among women ages 18 to 29 is pimples. Biore's Acne Clearing Scrub is formulated to fight blemishes without disrupting the skin's natural moisture system. The cleanser contains superfine alumina crystals, 1% Salicylic acid, along with a breakthrough technology featuring dirt seeking cleansing molecules that target and cling to impurities allowing them to be washed away.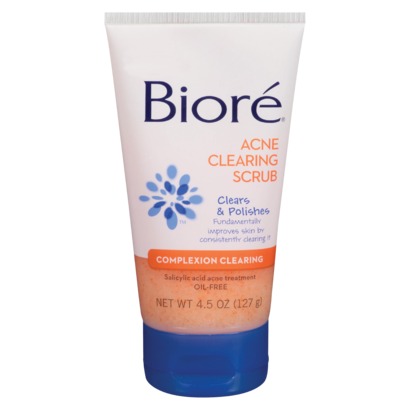 According to Biore's skincare consulting dermatologist Dr. Sapna Westley, "many acne sufferers want to attack blemishes using harsh products that dry out pimples. But I always have a concern that these formulas may over dry the skin and be irritating and ultimately zap skin of its natural moisture, throwing it out balance leading to more breakouts." One of the keys to getting and keeping acne under control is to use a cleanser that is effective enough to clean the skin without stripping the skin of its natural moisture.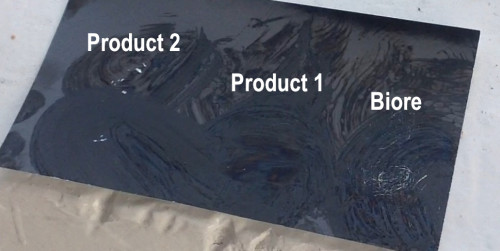 When compared to other leading exfoliating cleansers, Biore's cleansed in a uniform manner without damaging skin.  The paper above has a coating that is similar to the skin.  If you look at the Biore section of the paper, you'll see uniform areas of exfoliation. Product 1 (Neutrogena) has exfoliating beads but didn't do anything to exfoliate the skin.  Product 2 (St Ives Apricot scrub) exfoliated the skin but left deep gashes which simulate damage to the skin.
My Thoughts on Biore's Acne Clearing Scrub 
Biore's Acne Clearing Scrub contains menthol which left my skin feeling soothed.  The mandarin mint fragrance left  a refreshing, clean smell, which is great especially in the morning when I want to wake up. The alumina crystals were easy on skin and gave uniform, gentle exfoliation — I didn't get a shocking sting when I used my toner.  While Biore promises "clearer, healthy skin in just two days," I didn't see any difference in pimple size or skin brightness until about a week.  I must note here that I only had a minor breakout on my chin at the time of product testing (praises to the Gods).
Where to Buy Biore's Acne Clearing Scrub 
If you have acne, Biore Acne Clearing Scrub is definitely worth a try, at at under $7, why not? Also check out this post to see a complete Biore regimen that might work for you. Biore's Acne Clearing Scrub can be found at select food stores, drug stores and mass merchants  nationwide.
Let's Connect!