New Hair Product Alert!! And this one is strictly for girls like me who are naturally curly but prefer straight styling (most of the time…I made exceptions in the summer). Motions is preparing to introduce  STRAIGHT FINISH – A Revolutionary Heat Styling System for Natural Hair Textures.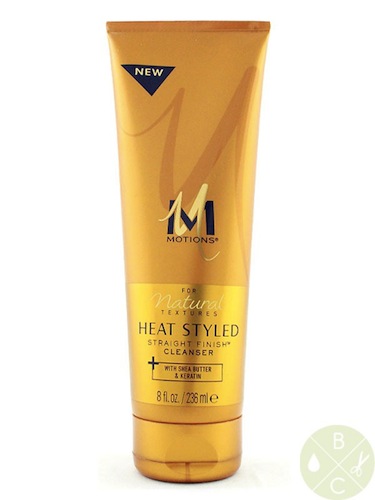 According to Motions' research: One in four African American women with natural hair would like to straight style their hair, but only if their curl pattern would not be compromised.
You can't see me, but I'm at my computer, nodding in agreement. While my hair generally has pretty good "snap back" to curly after I straighten it, I have lots of friends who haven't been as lucky. This really is a chief complaint amongst black girls with naturally curly hair who decide to temporarily straighten. Motions® new 3-step system claims you're able to go from curly to straight and then "snap back" to your natural curls without any curl loss. What they're calling their "Bounce Back Formula", is a prep and protection system that seals your hair so that it will return to its natural curly texture after one wash.
*Flat Iron pictured may be different from the one the winner receives.* 
Well color me intrigued!
And I bet you're intrigued too….so of course I want to offer you an opportunity to win the Motions STRAIGHT FINISH system as well as  Proliss iso professional Tourmaline Ionic Straightener to help you achieve your desired style.
Now I haven't tried Motions STRAIGHT FINISH just yet, but I plan to soon….In a couple of week's I'll be attending a launch event and Rihanna concert to learn more about the line. …so full review coming soon!
Good luck!
–
Want to share this giveaway?
Copy this link: http://bit.ly/ZtguCz