The spring equinox has officially come and gone, signaling the official start of spring but not necessarily bringing the immediate warm weather.  But let's look at the positive side, it gives us a little more time  to plan our spring makeup look.  Though it's not necessary to completely revamp your beauty bag, it is fun to update the basics with some fresh new items from the current season.  Some of us may add a few more pieces than others because we just can't help ourselves and we already admit that we are powerless over the beauty tractor beam that sucks us in with each new collection (Ok, that part was mostly about me.)  That being said, I have already compiled my shopping list of what needs to be added to my makeup bag for spring, and felt that I would share with all of you.  I know, I'm too kind.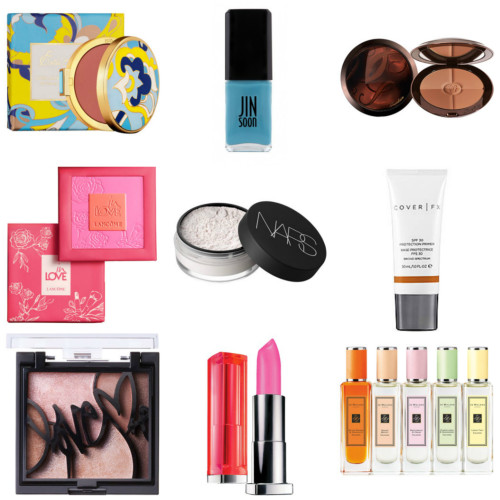 1.  Estee Lauder Mad Men See Through Blush – If the gorgeous natural pink shade of this blush does not put you in the mood for spring, then the bright and 60′s inspired packaging is sure to.  Fun fact: the case and carton are actual replicas of designs from Estee Lauder's 60′s era collections.  Perfect addition to an every day makeup look for creating that subtle flush on the cheeks.
2.  Jin Soon Choi Polish in Poppy Blue – One of the easiest ways to incorporate color into your beauty routine is with nail polish.  It can often be overwhelming to branch out to a bold lip or vibrant eye liner, so put that pop of color on your hands or toes.  And there is simply no better way to do so than with this bright blue.  I personally have already purchased this (and her entire spring 2013 collection for that matter….whoops) and can tell you that the wear of this polish certainly rivals the color payoff – both are amazing.
3.  Guerlain Terracotta Four Seasons Bronzer – Most of us have been hiding under layers of coats, hats and scarves for the past 4-6 months, so we are going to need a little help to fake it until we make it…..to the beach.  With the perfect gradation of 4 matte tones in each palette to help sculpt and reproduce the perfect tan all year round, this is an essential piece to add to any makeup collection.  Formulated in 6 shades to match every skin tone, swirl the colors together for an overall warmth or use each color individually to highlight and contour the face to achieve the look you want.
4.  Lancome Blush in Love in Pommettes d' Amour – Now once your cheeks are perfectly sculpted and mimicking a recent jaunt to the south of France, a nice bright pink dusted right on the apples is the perfect piece de resistance.  Often a pop of color with subtle eyes and lips can be all you need to brighten up the face.
5.  Nars Light Reflecting Loose Powder – With each degree added to the temperature, so goes the need for powder over makeup.  April showers bring May flowers annnnnnd shiny foreheads.  But the dreaded flat matte look of years ago is no longer the challenge with such innovative products as this Nars powder.  Colorless and able to be used by any skin tone, this powder will help to set and prolong daily makeup wear, while the photochromic technology will adjust to light sources throughout the day to help achieve a flawless and smooth complexion.  Fancy.
6.  Cover FX SPF 30 Protection Primer – As the days become longer, so do our makeup demands.  The first step in a lasting face is often a primer, and the Cover FX's new 30 protection primer helps to hydrate, smooth AND protect your face all day.   And with the added benefit of a sunscreen in the primer, this is the perfect product to take you through spring AND summer.
7.  Smashbox Love Me Palette in Admire Me – For those of us that still want to stay close to our neutral roots (raises hand), this eye palette is perfect for every day wear while the pale pink shades are a welcome change for spring from the basic beige.  Use this palette to create  a great day look with a simple wash of the paler shades and then keep with you amp up for evening by adding the deep brown and burgundy shades to the lash line for a smokier effect.
8.  Maybelline Color Sensational Vivids Lipcolor  in Pink Pop – What is spring without a bright lip option – amiright???  Wear it boldly by applying directly from the tube all over the lips, or use a dabbing motion to create a more sheer wash.
9.  Jo Malone Sugar and Spice Collection – No makeup look is complete with a great fragrance, and as the seasons change it is nice to play with a new scent.  Jo Malone's new collection of 5 sweet and delectable scents, worn alone or layered together,  are inspired by pastries and desserts, and is the perfect way to welcome spring.
What's on your spring beauty list?
For more sass and beauty updates follow me on Twitter, Instagram or Like me on Facebook.