There may still be snow on the ground, and a freezing chill in the air, but the beauty world is charging ahead to Spring – nail trends included!  Over the years, nails have become as much an accessory to one's outfit as the perfect statement necklace or pointy toe pump.  Here is a look at some of the emerging 2013 nail trends that will be essential to completing your Spring 2013 wardrobe.
Neutral Manicures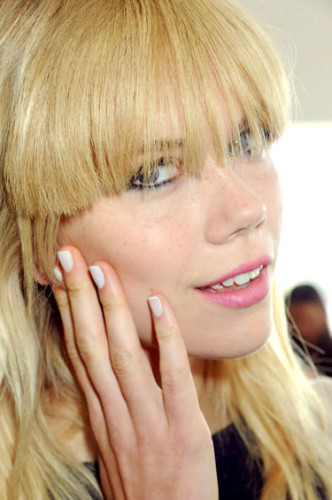 Never too far from a neutral, whether in makeup or clothing, this one is probably one of my favorite trends – nude or flesh-toned nails.  There is something so ladylike and chic about nails that have just a hint of color, and can often help to elongate the look of one's fingers and nails.  Butter London has three new nudes in their spring 2013 Stalker collection; Crumpet (a warm creme,) Tea & Toast (an opaque rich tan creme) and Shandy (an opaque apricot creme).  A few nude shades to try:  Julep Pippa, Dior Grege and Butter London Cuppa.
Metallic Manicures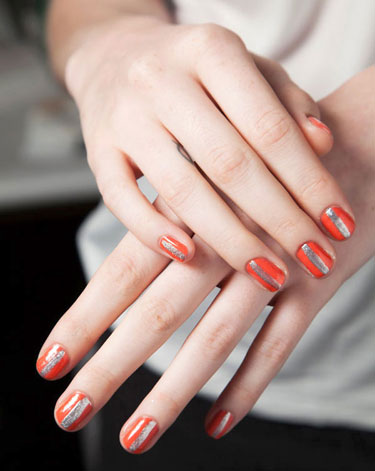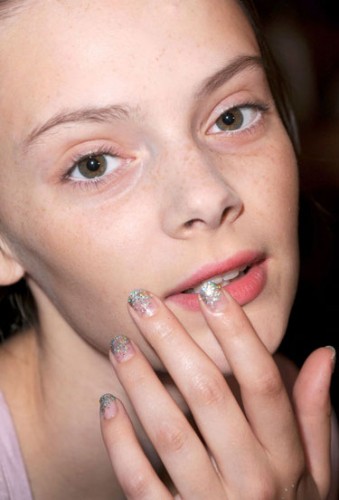 Metallic trends are going to be popping everywhere this Spring – in handbags, shoes and especially on nails.  Fueling the ever growing nail art trend, this is a fun way to add some excitement to a basic manicure.   Use your favorite metallic nail polish such as Essie Good as Gold or Deborah Lippman Believe, to add some creative flair to your spring manicure.
Two Toned Manicures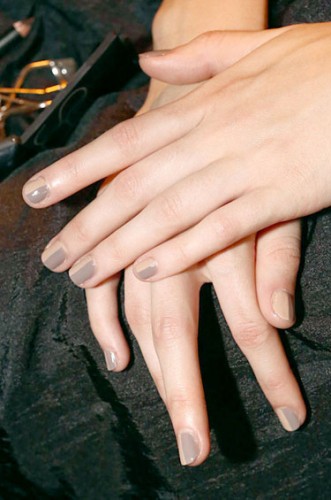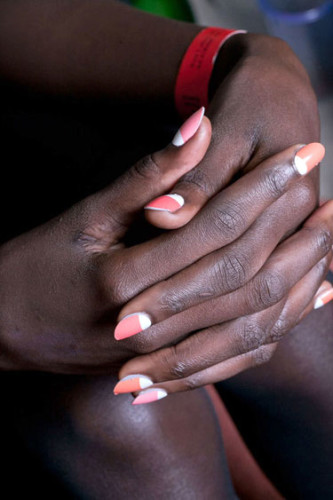 Two toned nails are the beauty equivalent of color blocking for your hands. The idea is to use contrasting or similar colors together on one nail and create a striking graphic and bold effect as seen above.  You can also try a negative space manicure where you only apply polish to a part of the nail. Use your creativity to create a look with a contrasting color half moon at the base of the nail or keep it basic and paint the colors side by side down the nail for a quick and simple take on the trend.
Speckled Nails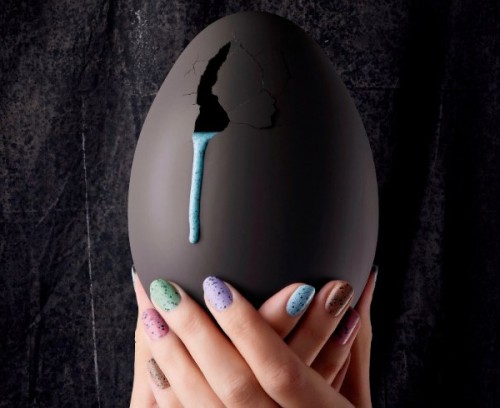 Slightly Easter inspired with a nod to the speckled egg is the new crop of nail polishes that have been popping up recently.  Illamasqua Spring I'mperfection collection features  five perfectly imperfect shades (shown above.) Deborah Lippman's I'm not Edible Glitter Polish  also features a similar effect
Textured Manicures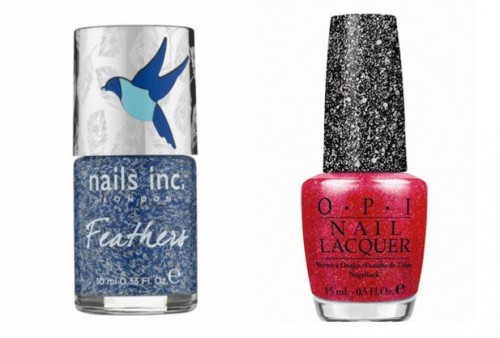 Glossy, smooth nails were sooooooo 2012.  Now we are moving into the year of texture nail – a concept that has always been a staple in the fashion world but is only now making its way into the main stream. It began with the Ciate Caviar and velvet manicures, but this new crop of products involves only one step with the texture actually in the polish itself.  Nails Inc Feather effect nail polish, available later this month on nailsinc.com, and OPI liquid sand polish set available on amazon.com.
What is your favorite emerging nail trend?
All images  except Illamasqua via luckymag.com and harpersbazaar.com.