SHOW: Creatures of the Wind
LEAD ARTIST: James Boehmer, NARS Director of Global Artistry.
LOOK: "The makeup complements the collection by adding a new element. You see the pearl on their cheeks, and an angular line that almost makes the look hard and not so feminine, like a Teddy girl in the UK after World War II.  I also wanted to balance Chris and Shane's inspiration of artificiality, and candy, by creating a look that had a combination of matte and pearl but no real sense of contour, depth or color."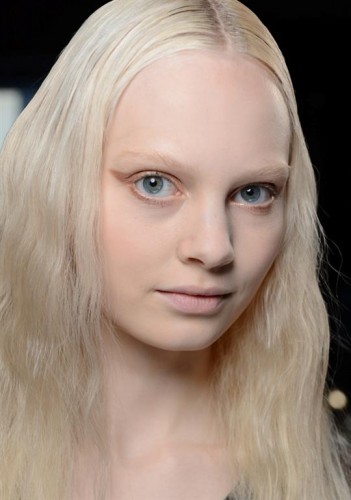 Below are the key products used to create the exclusive look:
FACE
Radiant Creamy Concealer (New for Spring 2013) 

Available: US – February 15 2013 / Global – March 1 2013
For a similar effect, try Sheer Glow Foundation 
EYES
BROWS
Brow Gel (Available: US / Global – August 1 2013)
LIPS
All products, except where noted, are available at narscosmetics.com.