It's no secret that the ThisThatBeauty team is constantly searching for the newest beauty products, the latest innovations and the most efficacious ingredients to keep all our readers in the know.  I recently had an opportunity to try Perricone MD's new Blue Plasma, a non-acidic daily peel, and had such amazing results, I knew I had to share the good news.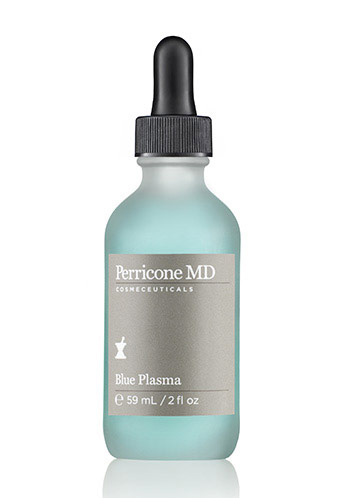 I am no stranger to exfoliating because I love the look of fresh, renewed skin that glows sans makeup.  A manual exfoliator can only do so much and sometimes those granules and chunky pieces can seem rough or abrasive on skin.  Years ago, companies began introducing acids into their products that would exfoliate skin by helping to remove dead skin cells.  Often what was left was red, irritated, and flaky skin, which seemed counter-productive, if you ask me.
Fast forward a few years to present day, when technology is moving faster than we are and you find a product like Perricone MD's Blue Plasma, one of the first to formulate a peel without acid that is safe enough for daily use on any skin type. Ingredients such as salmon roe enzyme and copper help to resurface, attack dead skin cells and unveil new skin, while at the same time re-balancing the skin's hydration level – making it by far one of the most unique products I have ever used.  Only after using it one week did I start to see such remarkable results  – with skin that felt smoother and more hydrated and looked more luminous and plump. 
As the year comes to a close and resolutions are on the docket for next year, better skin should be up at the top of the list. A  product  such as Blue Plasma is easy to incorporate into any regimen and appropriate for any skin type so this will be an easy skin care resolution for anyone to keep.  And for a limited time, if you purchase Blue Plasma and enroll in the auto replenishment program they offer on their site, you will receive a full size Citrus Facial wash with EACH SHIPMENT.  I KNOW.  I can hardly believe it either.  There is no better way to start off the New Year than with great skin.
Blue Plasma retails for $95 and is available on the Perricone MD website and Sephora.com.