Variety is the spice of life – and this is never more applicable then when talking about eyeshadows. Wearing the same combination or look every day is something to which I am quite averse. With so many options availabe – why choose one when you can have ten?  Palettes are the chosen tool that artists use to mix colors when designing their masterpiece, so, I apply this same principle to my eye makeup. The challenge is finding a palette where each and every color is usable and none are deemed the dreaded "accent color," which is code for "too ridiculous to wear."  A long admirer of Stila's cosmetics, the accessible and wearable range of colors found in the line "In the Garden" palette was a perfect example of this theory in practice.
At first glance, the palette seems quite varied in its shades, but as soon I began working with it I realized that each and every color seems to meld perfectly with the next.   Over the last few weeks I have found myself reaching for this palette over and over again, knowing that I can achieve any look I want.  Night or day, work or play –  Stila's "In the Garden" palette  has proven to be worthy of becoming a staple in my makeup routine.  Let's take a closer look at the colors: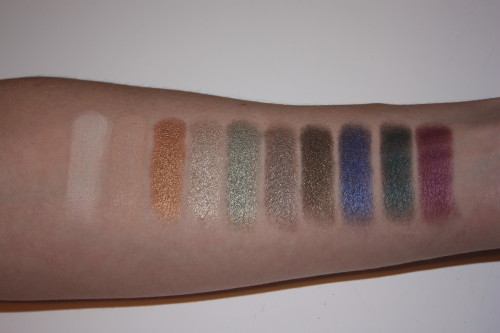 Spanning the color wheel from neutral to vibrant, this palette offers a little bit of everything. Each shadow does have a slight shimmer but plays to a more subtle, glowing effect rather than a disco inferno on your lids.  I find the color payoff to be a perfect balance between a sheer wash or when used with a slightly heavier hand, a vivid pop of color.  The versatility of this palette truly comes into play with the ability to wear the shadows either wet or dry.  The piece de resistance of this palette has to be the super soft eye pencil in a smoky dark grey with flecks of gold that perfectly complements any look created.
The "In the Garden" palette is available at Sephora or Stila's website, and retails for $39.00.